Seven Democrats have qualified for the upcoming special election to fill the House District 55 seat, which became vacant in May after its previous holder, Fred Plump, resigned over federal conspiracy and obstruction charges.
No Republicans filed to run. The primary election is Sept. 26, and the primary election runoff, if needed, is Oct. 24. With no Republican candidates, the seat is expected to go to whoever wins the Democratic primary process. Independent candidates have until Sept. 26, the day of primary election, to qualify.
So far, two candidates met the threshold to be required to submit campaign finance reports, which kicks in once a candidate has either received contributions in excess of $1,000, or made expenditures in excess of $1,000.
Democratic Primary candidates
Kenneth Coachman is the former mayor of Fairfield, a part of the Birmingham metropolitan area, and chief of staff at Miles College, a private historically Black college dating back to the late 1800s. 
Coachman presided as mayor of Fairfield for two terms, narrowly winning reelection in 2012 with 51% of the vote, though opted not to seek re-election in 2016. Coachman led Fairfield during a financially dire period which ultimately culminated in the city filing for bankruptcy in 2020.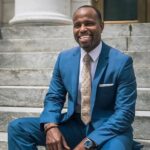 A native to the Ensley community in Birmingham, Travis Hendrix is a sergeant with the Birmingham Police Department, and a graduate of Miles College. Hendrix earned a master's degree from Oakland City University and has served as a school resource officer in the Birmingham area.
On his campaign website, Hendrix says he's running on producing economic growth, particularly for minority and women-owned companies. He also advocates for investing in more after-school and enrichment programs with a focus on technology and innovation, public safety, and further reducing the state's tax on groceries.
Hendrix previously ran for the House District 55 seat in 2022, but lost in the Democratic primary to Plump.
Professional musician, music producer and recording artist, Ves Marable is a Birmingham native and a graduate of Alabama State University and Birmingham School of Law.
According to his LinkedIn page, Marable is also a co-chairman of the Jefferson County Democratic Conference and a former councilman for the city of Fairfield.
One of two candidates in the House District 55 race that submitted campaign finance reports, Marable received $3,645 in campaign contributions from 15 unique donors. The three largest single contributions were all for $500, and all from individuals. Marable also spent $2,326 in campaign expenditures, all on advertising.
Cara McClure is a political and social activist who has worked for the 2016 Bernie Sanders campaign, as well as founded several social activist groups.
McClure is the founder of Faith & Works, a non-partisan social justice organization that works to expand voting rights, among other causes. She also co-founded the Alabama chapter of Black Lives Matter, which she helped launch in the wake of the shooting of Trayvon Martin in 2012.
McClure has further collaborated with Alabama movements such as Fight for $15, Alabama Arise and more.
McClure ran unsuccessfully in 2018 to represent Place 1 on the Alabama Public Service Commission, losing to Republican Jeremy Oden, receiving 39.5% of the vote to Oden's 60.4%.
Member of the Fairfield City Council, Phyllis E. Oden-Jones is a retired police sergeant who worked for the Birmingham Police Department for more than 30 years.
During her time in law enforcement, which began in 1986, Oden-Jones served as a patrol officer, a coordinator of the Police Athletic Program, a school resource officer and as a sergeant from 2008 until her retirement in 2016.
A native to Fairfield, Oden-Jones has also worked in community service for the Fairfield Community Center. She unsuccessfully ran for House District 55 in 2022.
An Alabama native, Sylvia Swayne is a graduate of the University of Alabama, earning a bachelor's in English. Her professional career involves managing quality assurance agents in the tech industry.
Swayne, is running on supporting efforts to incentivize investments in small and minority owned businesses, protect and expand voting rights, and increase community safety through community policing, expanding mental health and crisis intervention training.
Improving public transportation in Jefferson County is another issue Swayne is running her campaign on, according to her campaign website.
Vice president of the Ensley Highlands Neighborhood Association, Antwon Bernard Womack has run for a number of public offices.
Womack first ran for the Birmingham City School Board in 2009, though news outlets uncovered that he had falsified much of his resume.
Womack has received $1,450 in campaign contributions from five contributors, with the latest contribution of $1,000 being from an individual. He has also spent $1,035 in campaign expenditures, all for qualifying fees.