MONTGOMERY, Ala. – Newly elected Alabama Rep. Fred Plump, D-Fairfield, has agreed to resign following an announcement Tuesday that he faces federal conspiracy and obstruction of justice charges.
Carried out by the FBI and the IRS, the investigation alleges that Plump conspired with a "long-serving member of the House" to direct taxpayer dollars into Piper Davis Youth Baseball League, a nonprofit organization on which Plump serves as the executive director. Plump is alleged to have then given money directly to the unnamed legislator's assistant as a "kickback."
The announcement from Prim Escalona, U.S. Attorney for the Northern District of Alabama, does not name the legislator Plump is alleged to have conspired with or the assistant. Neither are currently facing any criminal charges.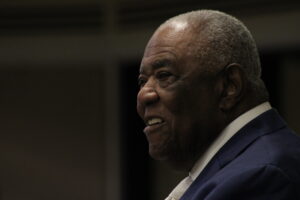 Rep. John Rogers, D-Birmingham, told reporters Tuesday he was the unnamed legislator, but denied any wrongdoing.
"I haven't seen one red penny," he told reporters near the House floor Tuesday evening. Rogers also said his assistant and Plump were romantically involved and he gave her money but she didn't know where it came from.
Resignation and charges
According to public records, Rogers allocated $385,776 to the nonprofit organization between 2018 and 2022.
According to the DOJ statement, Plump gave approximately $200,000 to the legislator's assistant between 2018 and 2022 as a "kickback."
The only other legislators to allot funds to Piper Davis are Sen. Rodger Smitherman, D-Birmingham, who allotted $5,000 between 2019 and 2020, and former Rep. Rod Scott, D-Birmingham, who allotted $3,722 between 2018 and 2019. 
Scott, who lost a close race to Plump in 2022, told Alabama Daily News that he has not ruled out a run for office in an expected special election to fill Plump's vacancy.
As part of a plea agreement, Plump agreed to plead guilty to the two charges, pay restitution of at least $200,000 to the Jefferson County Community Service Fund, and resign from office immediately. Both charges carry a maximum penalty of 20 years in prison and a $250,000 fine.
Plump faces conspiracy charges stemming from a text allegedly sent to Rogers' assistant that said "red alert," in an apparent attempt to warn of an impending investigation.
According to House Clerk John Treadwell, Plump must submit his resignation in writing. As of Tuesday, the House had not received such a letter, Treadwell said.
In a statement to Alabama Daily News, Plump's attorney, Richard Jaffe, said Plump "tirelessly and unselfishly" gave for decades to the baseball league he created for at-risk youths.
"Through his passion for sports and dedication to the Birmingham community, he has changed the lives of countless young boys and girls," Jaffe said. "Although he did not personally profit, his heart was always in the right spot despite the clear errors in judgement for which he now takes responsibility."
Background
In 2015, the Alabama Legislature passed a bill authorizing the Jefferson County Commission to levy a 1% sales tax and 1% use tax for the purpose of funding projects that benefit public welfare and education, with the county implementing the tax in late 2017. Revenue from the taxes was used to create and fund the Jefferson County Community Service Fund, which saw approximately $3.6 million in annual revenue.

Alabama House members representing Birmingham were allotted approximately $100,000 from the fund to recommend for an eligible project or organization, with Senate members representing Birmingham allotted approximately $240,000.
Alabama Daily News' Todd Stacy contributed to this story.