On Thursday, U.S. Rep. Terri Sewell announced that she had secured $21.8 million as part of the 2023 federal budget for military installations in Montgomery.
Making the announcement near the entrance of Maxwell Air Force Base in Montgomery, Sewell said that of the $21.8 million, $6.8 million will go toward the 187th Fighter Wing Air National Guard unit, and the remaining $15 million will be used to construct a new gate at Maxwell Air Force Base.
"As a member of the House Armed Services Committee, I am honored every day to represent the service members stationed at these units," Sewell said. "One of my most solemn responsibilities as a member of congress is to ensure that our service members get the tools they need to do the jobs that we send them to do, and to come home safely."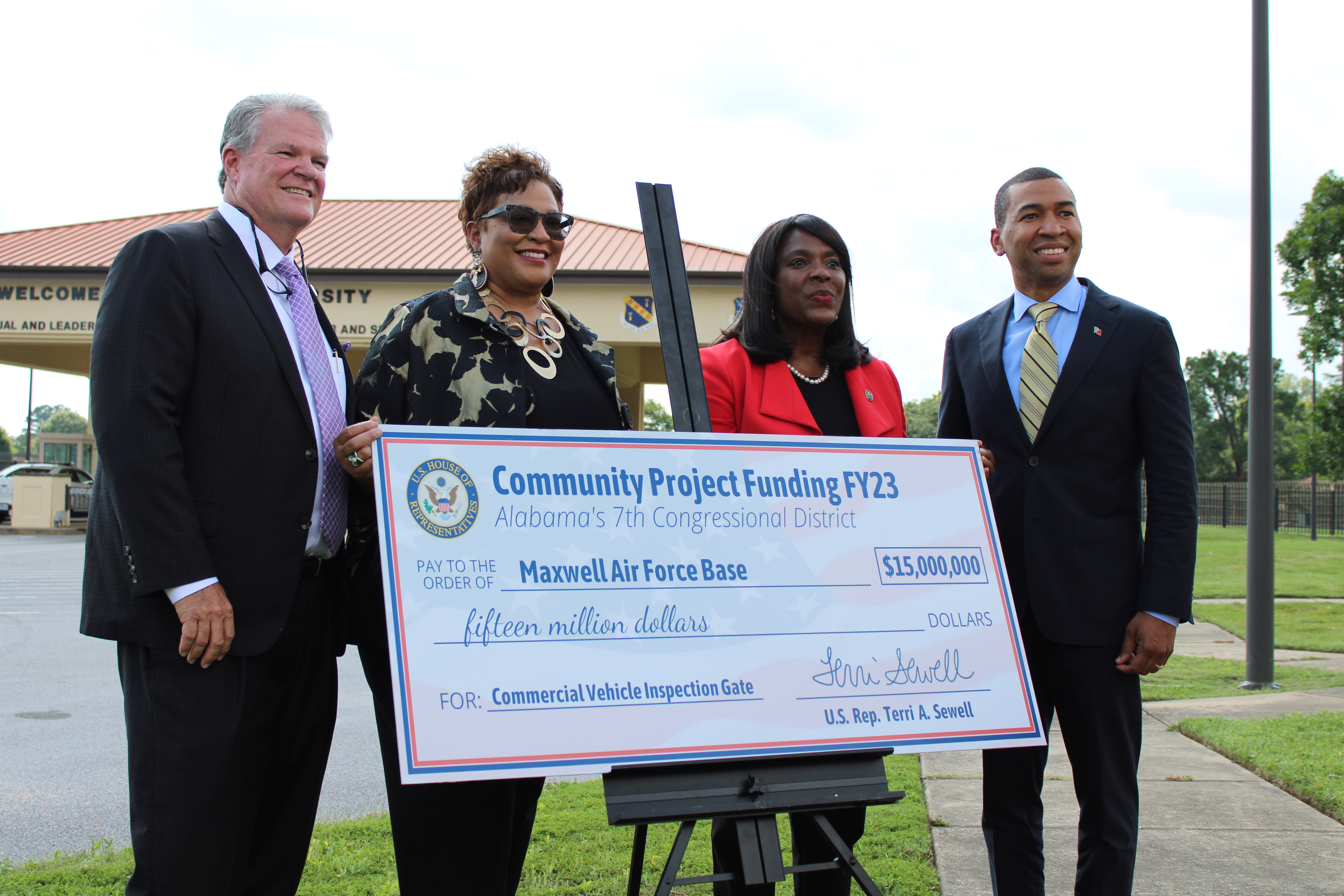 The $6.8 million for the 187th Fighter Wing Air National Guard unit, located in Montgomery at Dannelly Field, will be used to construct "a new F-35 weapons load career training facility," Sewell said. Dannelly Field was selected in 2020 by the U.S. Air Force as the latest military installation to house the F-35A Lightning II fighter jets, a fifth-generation fighter jet developed by Lockheed Martin.
"This training facility will help to improve those men and women that will be loading weapons for our F-35s," Sewell said.
Regarding the $15 million for Maxwell Air Force Base, the new gate constructed with the funds will primarily be used to accommodate commercial vehicles, but will also, according to Sewell, help make the base more secure and improve traffic flow.
"This project will go a long way in ensuring the safety and security of our military personnel and assets on the base, as well as preventing unauthorized access and maximizing traffic flow," she said. "This will actually free up some of the time at the other gates, but it's also about security; having a more secure entrance for our commercial vehicles."
Sewell said that she learned of the need for a new gate at the base from sitting down with Maxwell Air Force Base leadership, and that the new gate would also help in instances of natural disasters.
"The commercial vehicle gate will also be the gate where many of the FEMA supplies (go through), and so the opportunity to have a gate that is secure, big enough to handle the commercial vehicles will also help us in our humanitarian efforts when it comes to natural disasters," she said.
Montgomery Mayor Steven Reed was also present at the announcement, and said that the new gate at Maxwell Air Force Base had been requested by military leadership for years.
"These are things that not only help Maxwell (Air Force Base), they help our entire community; they help the armed services, and they help the Air Force and Space Force get stronger and better," Reed said. 
"Without Congressman Sewell really putting her foot down, I don't know that we would have gotten this. We've been trying to chip away at this for several years now, and she was able to help us close the deal."
The $21.8 million was part of a cumulative $42.8 million Sewell had secured for projects – military and otherwise – across Alabama's 7th District, including $4 million for the Birmingham Rails to Trails project, $4 million for the Montgomery Blight project, and $1 million for the Thomasville Hospital.