MONTGOMERY, Ala. – An effort to establish an education savings account program sparked impassioned debate Wednesday during an Alabama House committee meeting.
The Parental Rights in Children's Education Act, known as the PRICE Act, would allow parents of eligible students to receive money from the Education Trust Fund to be spent on alternatives to public schools such as private, religious or home schools.
A public hearing on the bill was held Wednesday in a House Education Policy Committee meeting. A total of ten people – five proponents and five opponents – spoke on the bill.
"I believe that the PRICE Act will greatly help empower all parents, whether their kids attended public, private or homeschool, and all educational workers in public, private and homeschool sectors," said bill sponsor Rep. Ernie Yarbrough, R-Trinity.
The amount each eligible parent receives would be determined by the yearly average in state spending per student, which for the 2024-2025 school year is estimated to be $6,900. Unused funds would rollover to the following school year, and would be eligible to be used on college or trade school costs until the student reaches the age of 21.
Money in an education savings account could only be spent on education-related costs, including textbooks, fees, and other instructional and enrichment materials such as computers, uniforms, tutors, and extracurricular activities.
The program would be implemented incrementally over three years. Once fully phased in, a fiscal report on the bill says the program would cost $697 million in appropriations from the ETF, and possibly higher appropriations depending on the number of students participating in the program.
The first member of the public to speak on the bill was Stephanie Smith, president and CEO of the Alabama Policy Institute, a nonprofit conservative think tank.
"School choice initiatives like the PRICE Act acknowledge and strengthen the role of parents in our responsibility to raise our own children; that's why school choice has been a priority for API since I was in elementary school," Smith said.
"I also always air on the side of freedom, and I believe that parents should be afforded with options to do what they believe is best for each of their children every single year. Introducing and expanding freedom and free-market principles into our education system will improve the education of all of our state's children."
Aaron Milner, the superintendent of Saraland City Schools near Mobile, argued that the playing field between public and private schools wasn't fair due to a difference in accountability. 
"I've heard proponents of this bill speak repeatedly of competition; the last I checked, competition involved both teams playing by the same rules," Milner said.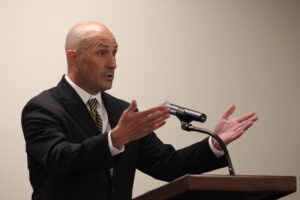 One of the biggest criticisms of the bill is that it does not require students in private school settings to take any annual standardized tests like public school students must.
"Individuals and schools receiving taxpayer dollars must have the same accountability standards as any other school system," Milner said. "If you take taxpayer money, submit to a yearly audit in the same way that my system must, receive a state report card just as my system does. Their students should take the same exact test as my system does, the ACAP and the ACT."
Milner also added that despite "around 50%" of his students receiving free or reduced lunch benefits, Saraland City Schools has maintained an A letter grade on the state's report card, a state marker of school performance, and that diverting funds from the ETF to private schools could compromise that.
"This bill will never allow us to know how our schools compare due to its lack of accountability for taxpayer dollars," Milner said. "As a high-performing school district, we won't be afforded competition due to the fact that this bill does not allow us to keep score."
Becky Gerritson, the executive director of Alabama Eagle Forum, a nonprofit conservative organization advocating for the bill, said private schools don't need standardized testing.
"The public system is not designed to focus on individual differences, and due to the enormity of the system, there is a necessity for testing mandates, but in the non-public sector, schools are directly accountable to parents. When private schools perform badly, they close, but when public schools perform badly, we give them more money."
Arthur Watts, the chief financial officer for Montgomery Public Schools, was among the last of the public speakers, and argued that the bill could bring significant harm to students attending public schools.
"This bill would basically lead to the dismantling of public education, and truly hurt public education students throughout the state of Alabama," Watts said. 
"Public education dollars would be used for two separate education systems; a public system and a private system, and of course the private system would not have the regulations and accountability measures that governs public education. This bill would basically wipe out all of the gains that the state of Alabama has made over the last decade."
Yabrough later told Alabama Daily News that he and the bill's supporters were "certainly not unaware of the financial concerns" around the bill, but that ultimately, "the money belongs to taxpayers," and that by returning that money to Alabamians, "the power of what it can do is tremendous."
The bill will continue to be worked on in the coming days and is expected to be presented for a vote in committee at a future date. Meanwhile, the Senate version of the bill, sponsored by Sen. Larry Stutts, R-Tuscumbia, has been assigned to the Senate education budget committee after a public hearing last week in another committee.