MONTGOMERY, Ala. – For 2022, Alabama's infant mortality rate was reported to be 6.7 deaths per 1,000 births, the single-lowest rate since the state began tracking such data in the mid-1960s, according to a new report.
For Black Alabamians, however, infant mortality rates had actually increased between 2021 and 2022, further widening the gap in health outcomes for Black and white Alabamians.
The new data comes from the 2022 Infant Mortality report, which was commissioned and released Thursday by the Alabama Department of Public Health during its board meeting in Montgomery. Infant mortality rates are measured by the number of infants who die before reaching their first birthday, and according to State Health Officer Scott Harris, are the best method to measure the overall health of a society.
"There are so many different factors that are tied up in infant mortality that you can use (it) and compare it from country to country, state to state, jurisdiction to jurisdiction and really get a good sense of the overall health of that population just based on one number," Harris said during the meeting.
Regarding the overall infant mortality rate, Harris praised the new record low number, saying that the rate was "clearly headed in the right way." His praise, however, was short lived, as he went on to note the growing disparities between white and Black Alabamians.
"The improvements in infant mortality, by and large, are occurring among white Alabamians," he said. "The numbers that we see among Black Alabamians, unfortunately, have not changed like we'd like. When you look at rates, unfortunately we see a lot of our more rural counties as the ones that have the highest rates."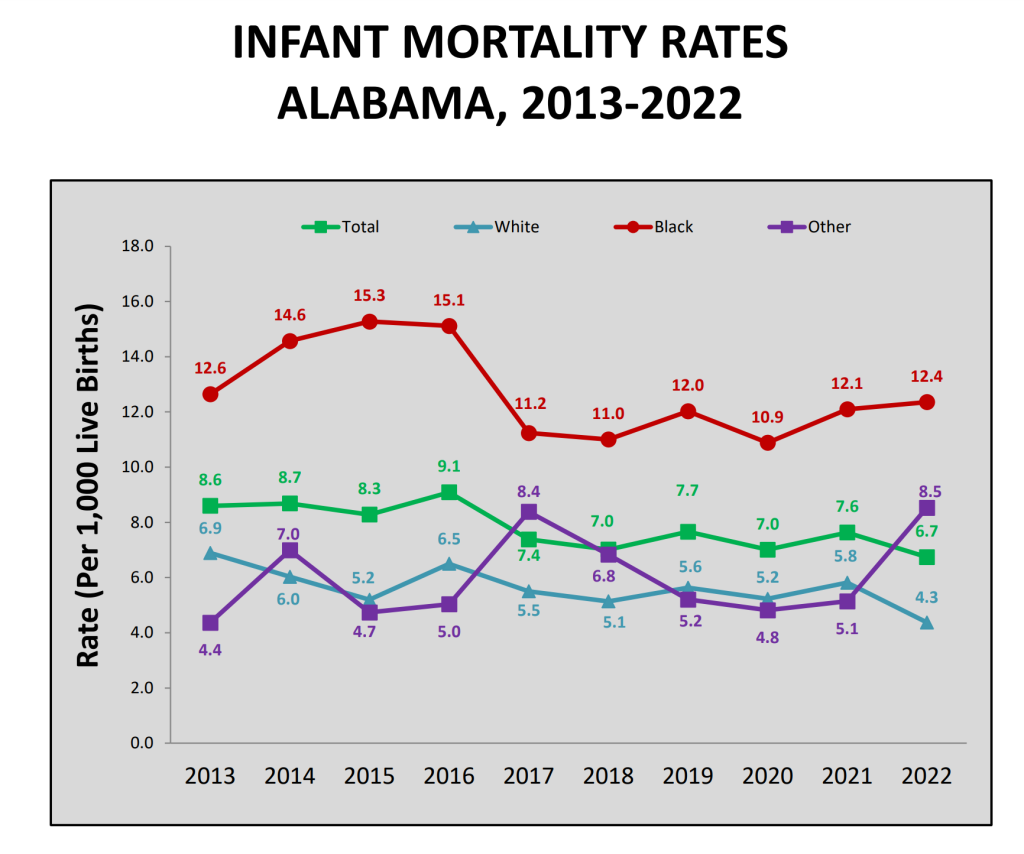 According to the report, white Alabamians saw an infant mortality rate of 4.3 per 1,000 births in 2022, a dramatic improvement from 2021's rate of 5.8, itself an improvement over the rate in 2013 of 6.9. Black Alabamians, however, saw a rate that year of 12.4, an increase over 2021's rate of 12.1.
Over the past ten years, the infant mortality rate for Black Alabamians hit its peak in 2015 with a rate of 15.3 deaths per 1,000 births, improving slightly in 2016 to 15.1, then improving dramatically to 11.2 the following year. Despite the drastic improvement in 2017, the infant mortality rate for Black Alabamians has been steadily increasing since 2020.
One ADPH board member asked Harris why the rates of white and Black Alabamians were so different, and growing further apart. Harris said the disparities largely revolve around one thing: poverty.
"It has to do with the same reasons we have health disparity in every other health outcome; Black Alabamians, disproportionately, are lower income and have less access to health care," Harris said. "Those are the biggest factors that we know of that contribute to poor health outcomes, it's all the same issue."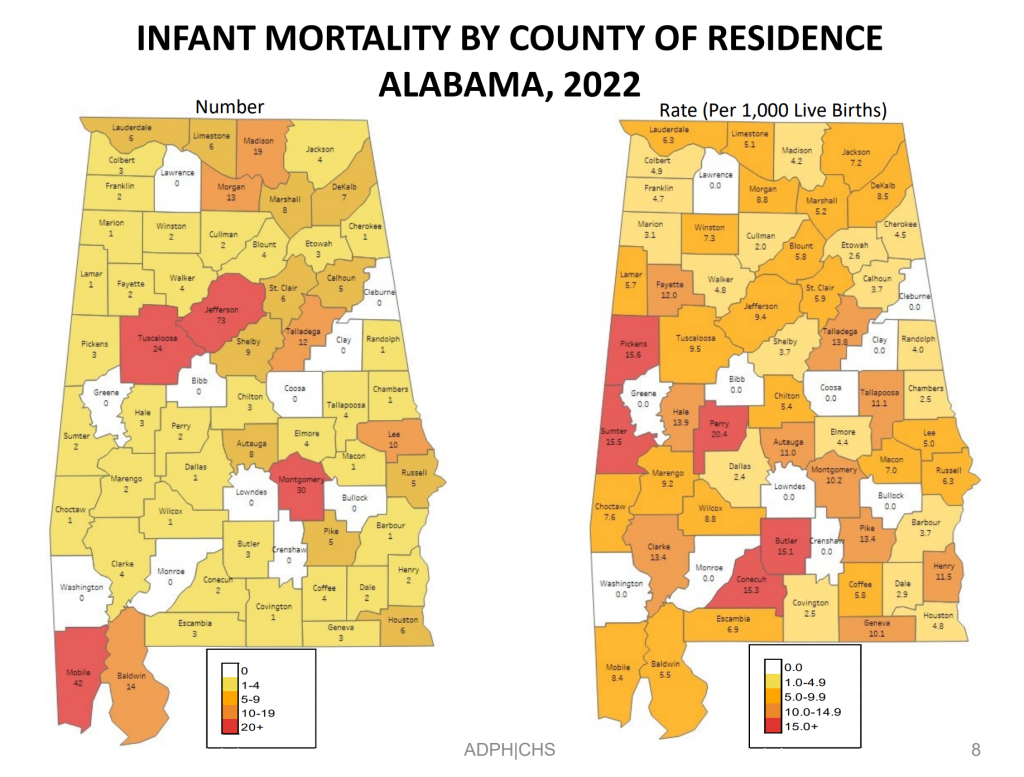 Among the top-ten poorest states in the nation, Alabama has seen its access to health care shrink over the past 50 years. According to the ADPH, 45 out of Alabama's 54 rural counties had hospitals providing obstetrical services in 1980. In 2019, just 16 of Alabama's 54 rural counties had obstetrical services.
More than a third of all Alabama counties have no birthing facilities or maternity care providers, and more than 27% of Alabama women have no birthing hospital within 30 minutes, a far cry from the national rate of 9.7%. With three hospitals discontinuing their pregnancy services within the last 30 days, state health officials fear additional closings could end in a "catastrophe" for infant mortalities.
As a result of the shrinking access to health care, Alabama has among the highest infant mortality rates in the country, with the United States itself having among the highest infant mortality rates among wealthy nations, despite spending the most per capita on health care in the world.
Almost half of all births in the state were covered through Medicaid, the state's low-income health insurance program, Harris said, who added that infant mortalities were disproportionately likely to be to mothers enrolled in the health program.
"Medicaid is for low-income families, so unfortunately, we see that they're more likely to lose a baby," he said. "Having Medicaid take your birth has a disproportionately high association with no prenatal care."
Alabama has among the strictest eligibility requirements for Medicaid in the country, with an adult only eligible if they are pregnant, responsible for a child, has a disability or family member with a disability, or is above 65 years old. Eligibility could be expanded to cover close to an additional 300,000 Alabamians should lawmakers expand Medicaid, as Alabama remains one of just ten states to not do so.
State leadership, however, has routinely shot down the idea, with Medicaid expansion remaining a largely partisan issue.
Board member Eli Brown, a doctor in Birmingham, asked Harris if states that expanded Medicaid saw improvements in their infant mortality rates, to which he responded with a simple "yes."
"I just wanted to hear you say it," Brown said.
Medicaid expansion, however, along with other methods of decreasing poverty, were largely outside of the ADPH's control.
"In Public Health, a lot of times we can identify a lot of these problems, but we don't have the tools to fix them; we aren't going to expand Medicaid here at Public Health, we're not going to address housing and transportation," Harris said. "Hospitals are struggling in rural areas, and we do our best to help with that, but we don't have the power to fix that."