MONTGOMERY, Ala. – In just four years' time, Alabama's ongoing critical shortage of math and science teachers will be a thing of the past, or at least, that's what Lee Meadows, executive director for the Alabama STEM Council, is betting on.
"America has had a persistent problem with a shortage of science and math teachers; Alabama has had it, every state has had it," Meadows said in Montgomery Tuesday during the biannual meeting of the STEM Council. "Because of your advocacy, I don't know of a single other state that is making the kind of investment in ending the STEM teacher shortage like Alabama is."
Named after the acronym for science, technology, engineering and math, the STEM Council is currently spearheading the expansion of a new program in Alabama known as UTeach, which was funded in May by the Alabama Legislature to the tune of $4.5 million.
Developed in Austin, Texas, the UTeach program allows for college students earning any degree in STEM to also receive teaching credentials with no additional costs or class time.
While the University of Birmingham has run its own UTeach program since 2013, this year marked the program's first major expansion in the state, with six Alabama universities launching their own UTeach programs in January, and enrolling students into them for the first time this fall. Graduating between 30 to 40 students a year through its UTeach program, UAB's annual math and science teacher output has far surpassed that of other universities in the state, which Meadows told Alabama Daily News was often as low as in the single digits.
In addition to the $4.5 million in funding for the UTeach program expansion, the Legislature also appropriated $5 million in grants to rebuild regional STEM hubs, $2.4 million for a new math and science teacher apprenticeship program, and $1 million for the STEM Council itself.
All together, Alabama lawmakers are making a roughly $13 million bet that they can lead the country in solving math and science teacher shortages. Meadows, who's been a professor at UAB for nearly 30 years, told council members that not only was he optimistic with that bet, but that the state's investment would likely be a permanent solution to said teacher shortages.
"The universities build these programs, and this is the way that they do science and math teacher preparation from then on," Meadows said. 
"So the joyful thing is, based on the proposals we got from the six new sites, in three to four years, UTeach Alabama sites will be producing 250 new STEM teachers every year, and that is permanent. When we start doing that, we are going to get close to ending this kind of teacher shortage, if not even just ending it (outright)."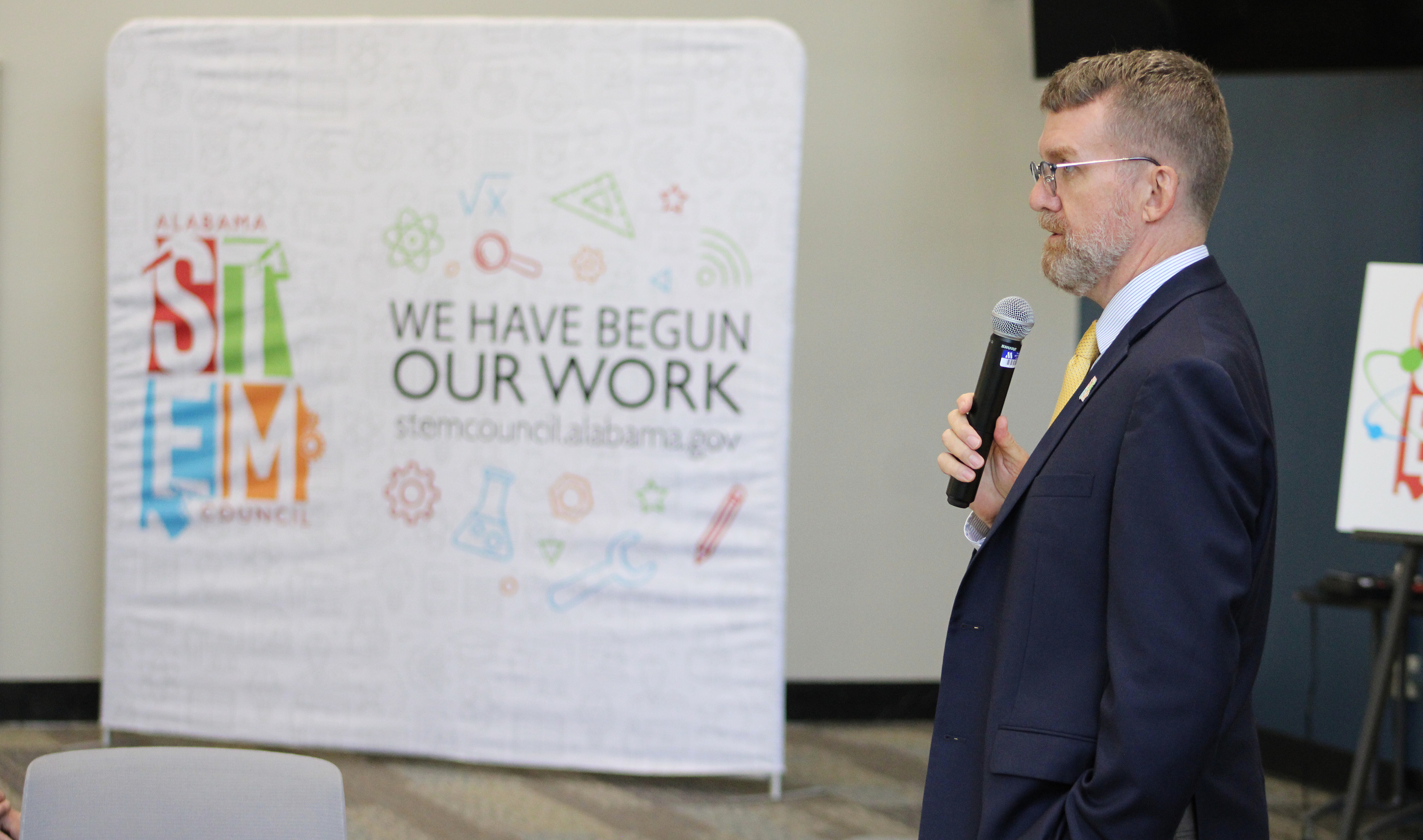 While Meadows called the nearly $13 million investment – which funds the entire STEM Council portfolio – "a little overwhelming," he reminded those attending the meeting that such a significant investment was the result of a multi-year effort from the STEM Council, calling it the council's "first big success."
"About two years ago, in the middle of a meeting, you guys challenged me and said 'we need more UTeach sites,'" he said. "That turned into legislative funding; that turned into the grant competition; and that turned into bringing UAB Teach and the six new sites. This wouldn't be happening without the Alabama STEM Council."
The council's largest hurdle going forward, at least according to Elizabeth Mohr, who manages the council's communications, is getting the word out to young Alabamians. While the council plans to put out a request for proposal in the near future to solicit a professional marketing agency, Mohr said that the council had already launched several social media pages advertising the program. The initial reach of those pages, however, still left a lot of room to grow, she said.
Over the last 90 days, the STEM Council's Instagram, X (formally known as Twitter) and Facebook pages were visited 171,900, 3,800, and 1,500 times, respectively. Of those visits, however, the three pages combined saw just 430 engagements.
"This is our current data from the last 90 days, and it's bleak," Mohr said. "So my hope would be to increase those by 25% every three months, and it's doable just by the basic stuff we've been doing over the last week and a half. I've seen us go from 90 impressions to now we're at 250; that's a huge increase, and so it is doable, but it does take all of us to make it happen."
With the UTeach programs at the six participating Alabama universities now underway, Meadows said he believes it's just a matter of time before the education system's output of math and science teachers increases dramatically, something he said was all the more likely given that Alabama now has the single-highest concentration of UTeach sites in the country.