MONTGOMERY, Ala. — As the 2024 Alabama legislative session draws closer, Kent Davis, the commissioner for Alabama Department of Veterans Affairs, named one item as his department's top wish for next year: more funding for mental health resources.
Speaking with Alabama Daily News recently during a meeting of the VA Board in Montgomery, Davis said that mental health crises and suicide among veterans is a growing problem in the state, but that adequate funding from the state Legislature in key areas could make a significant impact on reducing those numbers.
Specifically, Davis said one of his biggest hopes for next year was that lawmakers adequately fund the state's new 988 crisis line, which since its launch in 2022, has seen calls from more than 12,000 veterans.
"There's still an issue about how to fund that 988 crisis line; that would help because we advertise that to veterans all the time," Davis told ADN. 
"You dial 988 and then hit 1, that gets you to specialized veteran services that deal with things like PTSD or traumatic brain injury. That needs to be resolved, how that crisis line is going to be funded long term; that would help because a big subset is the veteran community that benefits from that crisis line."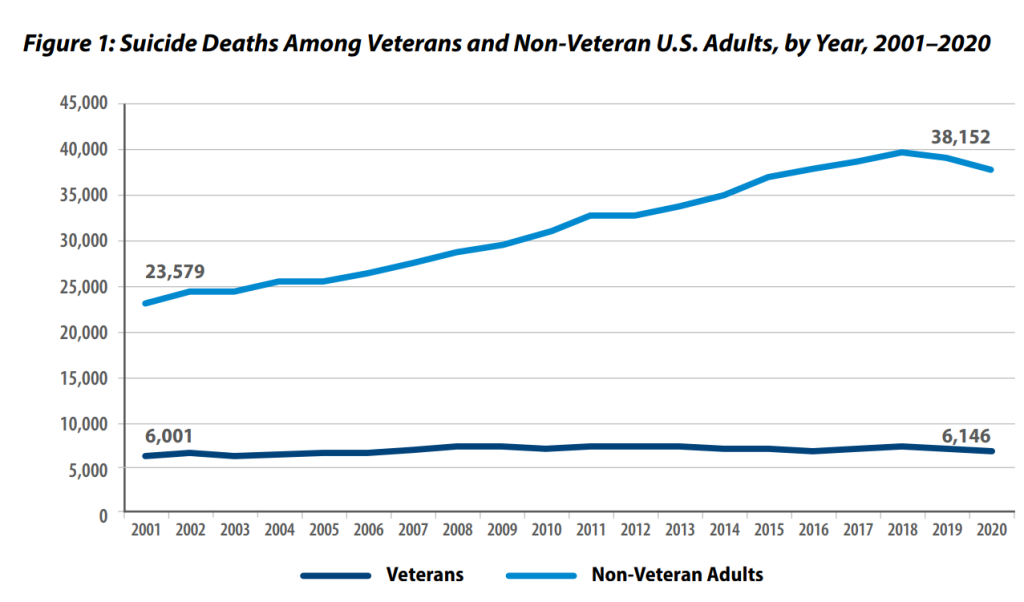 During a recent meeting on mental health, Kim Boswell, commissioner for the Alabama Department of Mental Health, said that the 988 crisis line received nearly 53,000 contacts between July 2022 and August 2023, 23% of those calls being from veterans. 
The crisis line's funding, however, has been inadequate relative to the demand it's seen since its launch. A bill was proposed this past legislative session to fund the crisis line to the tune of $69 million a year by attaching a $.98 per-month surcharge on phone lines, though it ultimately failed to become law.
According to the U.S. Department of Veterans Affairs, veteran suicide rates are 57.3% greater than non-veterans. In 2020 alone, 6,146 veterans committed suicide, a rate of 16.8 per day, with suicide being the second-leading cause of death among veterans under 45 that year.
"A big issue we have in Alabama is dealing with mental health issues; Alabama has one of the worst rates – if not the worst rate – of veteran suicide per capita," Davis said. "The Legislature has helped us with some awareness campaigns, hiring a full time veterans well-being program manager and things like that… we want to continue that."
Veterans are also twice as likely to become addicted to opioids than the general population, which, coupled with rampant instances of mental health issues, often leads to incarceration. Another hope for the Alabama VA in 2024, Davis said, was state funding for the veteran treatment courts, counseling-based diversionary court programs offered to veterans.
"There are about 26 jurisdictions that have those specialized diversion courts, but they're individually funded by those jurisdictions; the poorer jurisdictions probably can't start up this court, some have a hard time continuing their functions," Davis said. 
"If there was some centralized funding of that to help jurisdictions, that would help. The recidivism rate for those veteran treatment courts is incredibly low, I think they're a great model for diversionary programs."
Veteran treatment courts were first launched in Alabama in 2011, and were immediately proven successful, with graduates having a one-year recidivism rate of 14%, far below the national rate of 44%.
Sen. Andrew Jones, R-Centre, had been in talks to introduce legislation to fund the veteran treatment courts statewide, but ultimately never filed anything. Jones told ADN Friday that due to the bill's complexity, and with the litany of other priorities during the last legislative session, it had gotten lost in the shuffle, but that he does intend on bringing it back next year.
"I plan to bring a bill next session; there has been a working group looking at the issue since last spring," Jones said. "It's an extremely complex issue to work through and we wanted to make sure we got it right, so that's why I did not introduce a bill last session."
One tool to provide mental health resources for veterans that Davis did not want to endorse was the expansion of Medicaid, which, if expanded, would see nearly 300,000 more Alabamians become eligible for the state health care program, many of them veterans.
"That's a political issue, I don't want to wade into that one; I get asked that all the time and I say we deal with the VA health care system," Davis said. "Medicaid, Medicare, does it affect some veterans? Obviously, (but) not nearly as directly as the VA health care system, and there is definitely room for improvement there."
The 2024 legislative session begins Feb. 6.