MONTGOMERY, Ala. – A series of public hearings are expected to be held later this year to help decide how to spend what will be more than $270 million in opioid settlement money. The expectation is a large number of organizations will compete for the funds.
The hearings will be held by the newly created Opioid Settlement Oversight Committee, a 16-member committee chaired by Rep. Rex Reynolds, R-Huntsville, who told Alabama Daily News that he expects a "large portion" of the settlement money to go toward community-based treatment programs for opioid addiction victims.
"We want to hold public hearings that you could see possibly by fall of this year to hear who's doing the work, and I feel like we'll make our decisions based on not only that, but also inclusive of what the opioid commission has already recommended related to those providing treatment, recovery and prevention," Reynolds said.
Opioid settlements
On June 9, Alabama Attorney General Steve Marshall announced that Alabama would be receiving nearly $249 million in opioid settlement money from pharmacies CVS and Walgreens, as well as drug makers Teva and Allergan for their role in the opioid epidemic. Nearly 200,000 deaths from overdoses were reported in the United States since 2020, roughly 70% of them from opioids.
Alabama was hit particularly hard from the opioid crisis, with the Yellowhammer State in 2015 having more opioid prescriptions than people, taking the No. 1 spot in the country in terms of the number of opioid prescriptions per person.
"The opioid crisis is a blight on our society and has had costly effects on our communities," Marshall said in a statement. "My office will never stop holding those responsible companies accountable for the irreparable harm to our state."
As lawmakers and health officials have reassessed the over-prescription of addictive pain medication in recent years, pharmacies and drug makers have been doling out tens of billions of dollars to settle lawsuits from state governments, with the latest $249 million set to be paid out to Alabama "by the end of 2023."
Near the end of the Alabama Legislature's most recent session in May, Reynolds introduced House-Joint Resolution 204, which proposed creating the Opioid Settlement Oversight Committee as a means to make recommendations for allocating money from opioid settlements. Reynolds will chair the committee, with the other 15 members being various state and medical leaders, or their designees.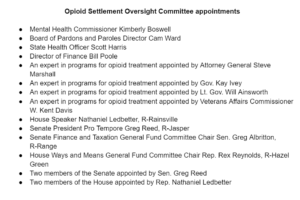 Where state leaders stand on opioid settlement money spending
While not all appointments to the committee have been made yet, Reynolds said plans are already in motion to hold a series of public hearings this year, or at least before the 2024 legislative session that starts next February, with some treatment providers already petitioning for a portion of the settlement money.
"We'll have treatment providers, law enforcement, drug courts represented on this, and I think just a lot of facets we've got to look at to see where we can best expend the funds," Reynolds said. "Certainly a large portion of these monies will go to community-based treatment programs, because that's where we want the treatment to happen, in the communities."
Cam Ward, another committee-appointee who leads the state's Board of Pardons and Paroles, told Alabama Daily News he was "open-minded" when it came to allocating the settlement money, but that whatever proposals came before the committee, they would need to directly target the opioid epidemic and have evidence of success.
"As far as how I would be on the commission, I'm open-minded, however, I do want this money to go to those who are victims of opioid abuse, those who've dealt with it," Ward said.
"It has to have a direct correlation to the opioid epidemic we're facing, not just giving it away for grants or equipment for any unrelated purpose, it needs to go toward an actual attack on the opioid addiction. I just want them to be evidence-based practices, not just theories or great sounding ideas, there needs to be data and evidence-based research to show that this treatment or service actually has been shown to work."
One proposal as to how to spend the settlement money came from Sen. Larry Stutts, R-Tuscumbia, an obstetrics and gynecology doctor at Helen Keller Hospital in Sheffield. While not a member of the committee, Stutts told Alabama Daily News that funding fellowship training programs for physicians to train in addiction medicine was one way lawmakers could fight the epidemic.
"There's a subspecialty in addiction medicine, and I think we could fund some training programs in the state to train people to treat the addiction problem," he said. "Enabling some primary care physicians to have the opportunity to train and actually training in addiction medicine, that would be very worthwhile."
Stutts called the opioid epidemic a "huge problem," and said he has seen it worsen over the past two decades first hand.
"In the hospital where I work, the first 10, 15 years I was in practice it was rare for us to have somebody come in in labor with a positive drug screening," he said. "Now it happens once a week."
Brent Boyette, a northwest Alabama doctor who specializes in addiction medicine, agreed with Stutts in that addiction medicine training programs should "absolutely" be included in the opioid settlement spending, but that the solution to the epidemic needs to be multi-pronged.
"I think it would be a tragedy if training programs for health care professionals were not included in the use of this money," Boyette told Alabama Daily News.
"We cannot incarcerate or criminalize ourselves out of this problem, we have to work on both sides of the equation. Far too long for the last 50 years, we focused on supply reduction, and we've not focused on demand reduction. That's where more money, more effort needs to go toward; prevention, early intervention, and chronic-disease management."
Having worked as a physician since the early 2000s, Boyette said that he saw the opioid epidemic rise as early as the 1990s, and pointed to a movement in the health care industry which encouraged providers to consider pain as the "fifth vital sign" as one of the epidemic's culprits.
No tentative date has been scheduled for the first Opioid Settlement Oversight Committee public hearing.