MONTGOMERY, Ala. – Alabama lawmakers have until July 21 to approve a new congressional district map, and though the deadline is just days away, the committee tasked with recommending a new map got no closer to a consensus during its second public hearing on Thursday.
The Legislative Committee on Reapportionment heard public comments from dozens of citizens and organizations, reviewed a handful of the most prominent proposed maps and received a letter from Attorney General Steve Marshall offering his advice in how to proceed with redistricting. 
The committee is tasked with recommending a new map to the Alabama Legislature, which is set to approve a map during the five-day special session beginning Monday. Lawmakers were forced to adopt a new map after the one approved in 2021 was ruled a likely violation of the 1965 Voting Rights Act, as only one of the state's seven districts are majority black, despite 27% of the state's population being Black.
So far, the debate has largely centered around two maps; one proposed by the plaintiffs in Allen v. Milligan, the Supreme Court case that led to the ruling that mandated Alabama adopt a new map, and the Singleton maps, maps that arose from a separate lawsuit filed against the state. Another map, dubbed the CLC map, has also been floated by several committee members, though its creator, the government watchdog group Campaign Legal Center, has argued the map was never intended as a serious proposal.
On Thursday, another map entered the fray; the Hatcher map, designed by Alabama Democratic Conference Chairman Joe Reed, and set to be carried in the legislature by Sen. Kirk Hatcher, D-Montgomery.
While these four maps made up the bulk of discussion Thursday, some committee members appeared frustrated that the hundreds of maps submitted by the public did not get to be publicly vetted during the hearing.
Co-chair Rep. Chris Pringle, R-Mobile, said that the committee had received "an overwhelming number (of maps) sent to the committee from all over; from France, New Zealand and all over out of state," and that they "were just overwhelmed."
"So how do we have a public hearing on the plans that were submitted if we don't have the plans before us," asked Sen. Vivian Figures, D-Mobile.
"I'm doing the best I can, senator," Pringles answered.
"I'm not complaining, I'm just saying it doesn't make sense if we're having a public hearing on plans submitted," Figures said. "We need the plans."
Rep. Chris England, D-Tuscaloosa, echoed Figures' concerns, and argued that the committee process not only stifled public engagement, but compromised lawmakers' ability to thoroughly review and approve a new map.
"It kind of puts us, as members of the committee, and the public at a disadvantage because they will not have an opportunity to provide any public input on maps that you all present," England said. "I would prefer that if this is a process where we're all kind of building a resolution to satisfy a court order, and we're not just seeing it on Monday when we arrive at the special session and then be expected to vote on it within five days."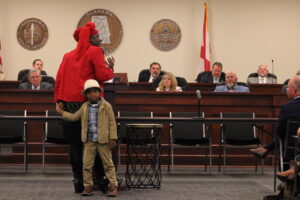 The Milligan map
The first map discussed during the hearing, the Milligan map, gets its name from Evan Milligan, executive director of Alabama Forward and lead plaintiff in Allen v. Milligan. Milligan was there to speak on behalf of the map, and pleaded with the committee to consider the impact adopting the map could have on future generations, particularly in the Black community.
"I'm six generations removed from enslavement, and my son and daughter are the seventh generation," he said. "When I look at them, I want to commit to them inheriting an Alabama that allows them an opportunity to lead, to dream and to make contributions to the community, the same that you want for your children and your grandchildren."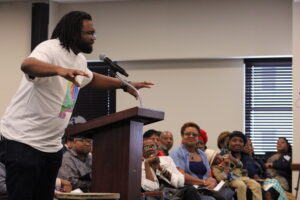 Deuel Ross, lead attorney for the Milligan plaintiffs, made a case for the map from a data-driven perspective. Reading from a letter he had sent to Dorman Walker, attorney for the legislative committee, Ross argued that the Milligan plaintiffs' maps were "the only ones who have won a case so far," and that "the Singleton plaintiffs, respectfully, have not won anything in the district court or the Supreme Court."
Ross went on to share data derived from analyzing elections between 2014 and 2020, data that showed in one of the Singleton Maps, Black and Black-preferred candidates lost 5 out of 11 elections in districts with a significant Black population, and in the CLC map, four elections.
In the Milligan map, however, Ross said Black and Black-preferred candidates won all elections in such districts over that same timeframe.
Earlier in the meeting, Pringle had said that the purpose of the hearing was to "receive public comment in communities of interest," and that the committee should "not default to the arguments of the Milligan plaintiffs' lawyers." Pringle also said that some of the judges' rulings were "preliminary findings based on limited records compiled in an expedited hearing," and that they were "not a final judicial determination."
Davin Rosborough, another attorney for the Milligan plaintiffs and lawyer with the ACLU Voting Rights Project, attempted to rebuff Pringle and argued that at least as it relates to the 2024 elections, the judges' rulings were final judgments. Rosborough also countered claims that districts cannot be made along racial lines – claims voiced by Sen. Rodger Smitherman, D-Birmingham, who plans to sponsor one of the Singleton maps.
"Although the victory in the Milligan case, which was affirmed by the Supreme Court, was from a preliminary injunction, it is a final judgment for purposes of the 2024 election at least," Rosborough said. 
"Second, the committee's own guidelines recognize that Voting Rights Act compliance takes precedence over some of those other provisions. Race still infuses the political system here, and that's why the race-conscious remedy that's presented, which still respects political boundaries and communities of interest like the Supreme Court recognized, is a proper remedy."
The Hatcher map
The next map shown during the hearing was the Hatcher map, which Reed presented to committee members.
The Hatcher map immediately drew some pushback from both Republican and Democratic committee members, largely due to the number of counties and voting precincts it proposed to split; 10 counties, and 87 precincts.
"With this many split precincts, that's a big problem for us in other elections – even if it's just a few – and you're talking about 87," said Figures, who plans to sponsor the Milligan map.
Pringle was not impressed with the proposal either.
"I can assure you that with the ten-county split you have, I can find people in those counties that disagree with having their counties split," Pringle said. "Those 87 precincts, did you all split those along racial lines? Were you all looking for African Americans when you split those voting precincts?"
"I keep saying, we're looking for people," Reed responded. "Anybody tells you to (you can) draw two Black districts and (not) look for Black, they're lying to you."
"You drew it along racial lines then," Pringle said.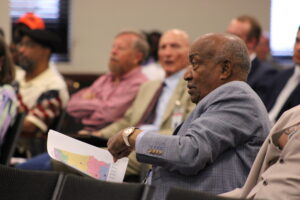 The Singleton, CLC maps
The final maps to be presented during the hearing were one of the Singleton maps and the CLC map, both of which have been supported by Smitherman, as well as Sen. Bobby Singleton, D-Greensboro.
Reading from a statement made at the previous hearing by James Blacksher, a civil rights attorney involved in the lawsuit that led to the creation of the Singleton maps, Smitherman argued that splitting districts along racial lines could pose a problem when held up to judicial scrutiny.
"The Singleton plaintiffs support plans that do not split Jefferson County, specifically Singleton map 3, and the CLC map," Smitherman said. "They showed that it is not necessary – I'm going to say it again – it is not necessary to draw districts along racial lines to provide two opportunity districts, districts in which Black voters have a realistic opportunity to elect candidates of their choice."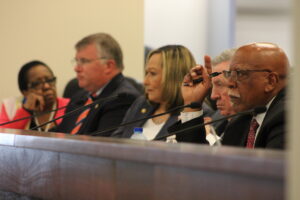 One point of contention between supporters of the Singleton and Milligan maps is that the Singleton maps keep Jefferson County whole, whereas the Milligan map splits Jefferson, as well as Mobile County. Smitherman spoke at length in support of the Singleton maps, which he said keep 97% of counties whole, making it the safer bet when reviewed by the courts.
A surprise letter from Attorney General Steve Marshall
Toward the end of the meeting, Walker, the committee attorney, read aloud a letter he had just received from Attorney General Steve Marshall.
It said claims made by the Milligan plaintiffs included "several questionable representations," and that other claims were "flat wrong." Marshall wrote that the Milligan plaintiffs had initially supported the Singleton maps, none of which have a district with a Black population of over 50%.
"Now that they have secured an affirmance from the Supreme Court, plaintiffs are looking for much more," the letter reads. "They pretend like they never endorsed a plan in which the two highest (majority-Black) districts were at 40.5% and 45.8%, respectively. They now demand a plan that provides not just a 'fair chance' to compete, but instead a guarantee of Democratic victories in at least two districts."
Marshall's conclusion was that the map proposals from the Milligan plaintiffs were "patently unconstitutional," and that it would "likely open the state up to claims that it has violated the Constitution's Equal Protection Clause."
Read the full letter her: AG Letter to D. Walker 7-13-23.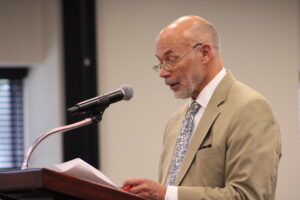 After the meeting, Milligan told Alabama Daily News that he and his fellow plaintiffs did initially support one of the Singleton maps "because we were operating off of information we had as of September 2020." Milligan said that by the end of 2020, however, they had reviewed additional maps and perspectives and settled on their proposal as it exists today.
Milligan also questioned why Marshall had targeted his proposal, yet remained silent on others.
"That argument seems to be silent about the fact that the Singleton (map) has failed its own proof test," he said. 
"During fall 2022, Black candidates in five out of five elections taking place in the Black Belt District associated with the Singleton (map) lost to their white opponents. This mathematical reality underscores the need for the very population balances that we are urging our Legislature to consider."
Speaking as to why his map was a better fit than the Hatcher map, the other proposal discussed Thursday that created two majority-Black districts, Milligan said his map better balanced all factors related to redistricting.
"When you have proven a case of voting rights violations because of racial discrimination, there's an urgency from courts to think about race, but that variable doesn't in itself outweigh all the other variables," Milligan said.
"So you still have to balance considerations of race with considerations of one person one vote, of the deviation, of splitting districts; what they call traditional principles of redistricting. Courts have looked at this map, (and) each court said that this would comply as a remedial map to address the issues they said the state of Alabama needs to address."
The redistricting committee will vote on which map to recommend on Monday morning.
Alabama Daily News intern Anna Barrett contributed to this report.