MONTGOMERY, Ala. — The Alabama Board of Pardons and Parole is on track this year to release the smallest percentage of eligible prisoners on parole in over a decade, granting parole to just 7.5% of the 2,332 prisoners eligible for release as of Thursday.
While Alabama's parole grant rate has been on a sharp decline for the past five years, it had experienced steady growth since 2013 before taking a nosedive in 2019.
Sentencing reforms in 2015 led to a gradual increase in the state's parole grant rate as well as a decrease in prison population, peaking in 2018 with a roughly 53% parole grant rate.
In 2019, however, that number dropped to 31%, coinciding with reforms to the Pardons and Parole Bureau that imposed stricter guidelines for granting prisoners' release. In 2020, that number dropped again to 20%, and then to 15% in 2021, settling at 10% in fiscal year 2022.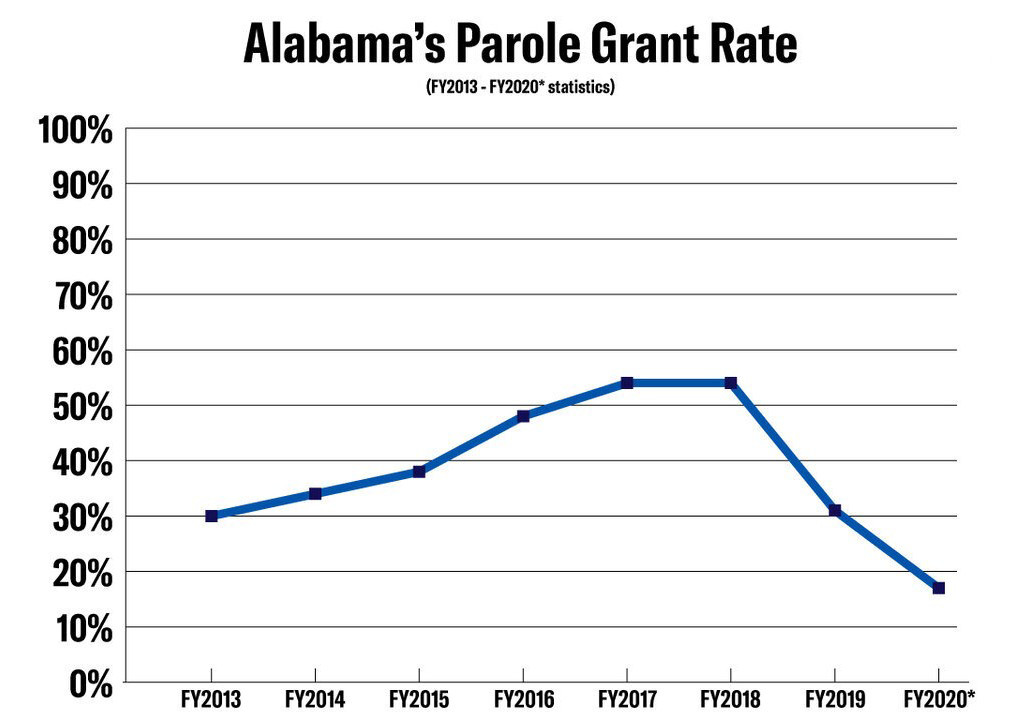 From Jan. 1 of 2023 to Thursday, July 27, the Pardons and Parole Bureau held 2,332 parole hearings for prisoners eligible for release, granting parole to 176 of them for a denial rate of 92.5%. Of the 176 prisoners granted parole, 50 were granted release on conditions that they live at a halfway house for a set period of time, 42 were ordered to undergo a mental health evaluation, and 38 were required to be employed within 30 days.
The decrease in the state's parole grant rate has, unsurprisingly, correlated with an increase in prison population, which had decreased sharply in 2015 following the sentencing reforms approved by then-Gov. Robert Bentley. In 2019, however, that rate began to climb, with the state having an incarceration rate of 938 per 100,000 by 2021, the sixth-highest rate in the country.
Some lawmakers, such as Rep. Chris England, D-Tuscaloosa, made an effort during the most recent legislative session to reverse the state's declining parole grant rate. In March, England introduced a bill that would have created a new council to develop and employ eligibility guidelines that the Pardons and Parole Board would have to follow. The board would still be able to deviate from the guidelines, but would be required to produce a report justifying the decision.
England argued at the time that the Parole Board had been ignoring its own parole guidelines, with a report from the American Civil Liberties Union finding that in 2020, the board made parole decisions that conformed with its own guidelines "in less than half of all cases."
The bill saw strong opposition from the House Judiciary Committee, however, and was ultimately sent to a subcommittee, never reaching the House floor.
On the flip side, many lawmakers were successful in passing legislation increasing criminal penalties, particularly for drug dealers and users, such as the fentanyl trafficking bill from Rep. Matt Simpson, R-Daphne, or the overdose manslaughter bill from Rep. Chris Pringle, R-Mobile.
With continued overcrowding and underfunding of Alabama's prison system, which in 2017 was reported to have spent less per inmate than any other state, the prison system is now under threat of a federal takeover after the federal government filed a lawsuit against the state over its prison conditions in 2020.