MONTGOMERY, Ala. – When the Alabama Legislature meets in March, one of leadership's first priorities will be a package of bills to extend and modify the tax incentives the state offers potential employers.
"I think this issue is one of the most important issues to address," Senate President Pro Tem Greg Reed, R-Jasper, said Wednesday. "(The bills) will be a highlight right off the bat." 
Reed, Lt. Gov. Will Ainsworth, Speaker of the House Nathaniel Ledbetter, R-Rainsville, Senate Minority Leader Bobby Singleton, D-Greensboro, and House Minority Leader Anthony Daniels, D-Huntsville, discussed legislative issues and priorities at a breakfast hosted by Alabama Daily News.
"You hear the opposition say we don't need incentives," Ainsworth said to the room of about 180 lawmakers, government officials and lobbyists. "That's not reality."
Those incentives and economic development bills are still being drafted. Ainsworth chaired a committee that last month sent to Gov. Kay Ivey more than a dozen recommendations for making the state more attractive to potential employers. Those included renewing and raising the cap on the state's key incentives.
The expected package of bills on economic development will include bolstering the state's large shovel-ready mega sites to show potential new manufactures.
"We need to make sure we're forward thinking or we're going to run out of sites," Ainsworth said.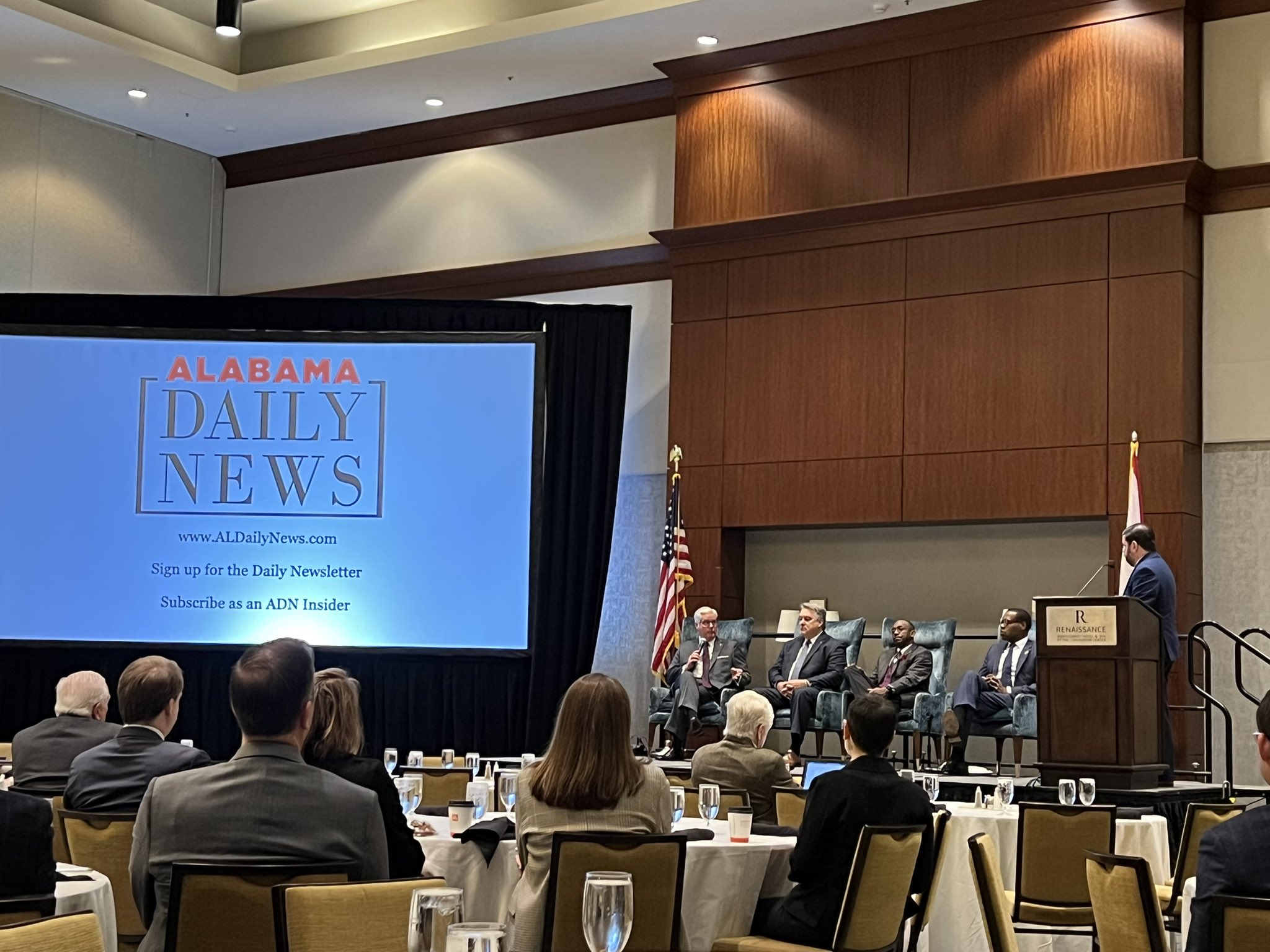 The state's primary incentives stature – the Alabama Jobs Act – includes both the Alabama Jobs Credit and Alabama Investment Credit. The Jobs Credit gives companies cash rebates on their previous year's payroll for qualified employees. Companies can get higher rebates if they locate in rural parts of the state or hire veterans. The Investment Credit pertains to a company's capital investment and can be applied to several taxes, including income. Companies can receive the incentives for up to 10 years.
According to the Alabama Department of Commerce, since its creation in 2015, the Alabama Jobs Act has attracted $17.2 billion in new investments, $4.4 billion of which was invested in rural counties. It's created over 34,000 new jobs, of which over 4,000 are in rural counties across Alabama.
"Other states around us are seeing us, seeing the success that we've had, and they're making investments and wanting to be competitive," Daniels said. "… I think we have to do a little bit better and be more creative."
Singleton stressed the need for focused job creation efforts in rural parts of the state.
"We have to do more than we're doing," Singleton said. "…We also have to look at incentivizing those who are already here, who have a footprint, and are expanding that footprint." 
Talking about other possible priorities, new House Speaker Nathaniel Ledbetter, R-Rainsville, mentioned an expected bill to increase penalties for trafficking fentanyl.
"The issue with fentanyl is something we have to address as soon as we go back in (to session) because it is killing our children."
Broadband expansion to both rural areas and underserved urban areas is also a priority.