MONTGOMERY, Ala. – A lawsuit filed in Montgomery County Circuit Court alleges that Dr. Steve Stokes, the chairman of the Alabama Medical Cannabis Commission, is not constitutionally authorized to hold his position as chairman due to him also serving on the University of South Alabama Board of Trustees.
Troy resident Kimberly Holcomb filed the lawsuit on Tuesday, in which she asks the court to remove Stokes from his position on the commission.
DOCUMENT: Lawsuit against Dr. Steve Stokes
The state has seen a flurry of lawsuits over the process by which the commission is awarding licenses to produce and sell medical marijuana in the state. Those licenses, which were awarded based on scoring data from anonymous evaluators selected by the University of South Alabama, were originally scheduled to be issued on July 10, but were delayed to Aug. 10 after scoring inconsistencies were discovered.
While related to the commission, Holcomb's lawsuit is the first to be directed solely at the chairman of the board.
The legislation that created the commission in 2021 states that "any current public official may not serve as a member." In the lawsuit, Holcomb argued that as a member of the USA Board of Trustees at the time of his appointment in July 2021, Stokes was and is a public official, and thus, cannot serve on the commission.
Alabama law defines a public official as "any person appointed to a position at the state, county, or municipal level of government or their instrumentalities, including governmental corporations," a definition that Holcomb argued fits being a South Alabama Trustee.
Stokes did not agree.
"When I went through the Senate confirmation process, the state attorneys looked at my application (and) they knew I was a trustee at South Alabama," Stokes told Alabama Daily News. 
"I've served for over a year and no one's ever said anything about it, and now all of a sudden it's a big issue right before the licenses are about to be awarded. I think this is just a way to try to discredit the commission, stop the process, and to me, the real people who are suffering are the people of Alabama because they need these medications."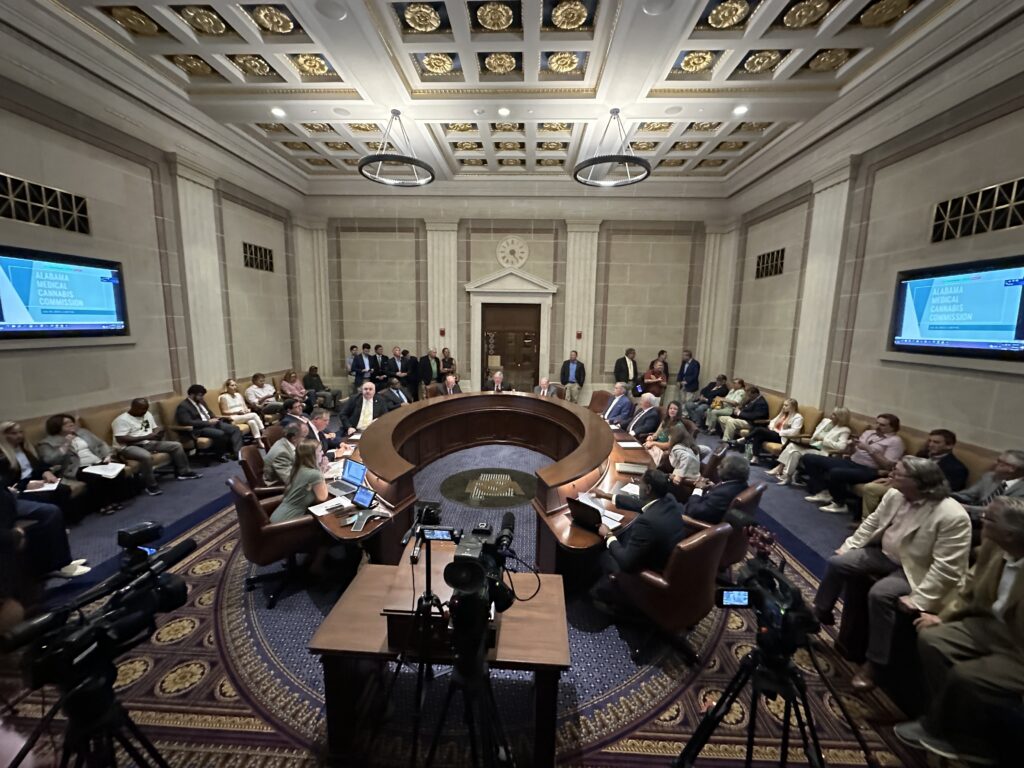 Stokes also said that while he wasn't sure, he believed that Holcomb was affiliated with one of the companies that had sued the commission after not being awarded a medical cannabis license.
"One of the applicants who came in ranked 32nd or 33rd out of 38 has filed multiple lawsuits, and they're the ones who've now filed a suit asking that I be removed from the commission," Stokes said.
"It's an individual, but she is involved in the company that's already filed suit against us before we issued a license. I don't know how she has standing, she must be a party to one of the license applicants; I don't know that for sure."
William Somerville, one of three attorneys who filed the lawsuit against Stokes on behalf of Holcomb, denied that she was affiliated with any of the companies that sought licenses from the state, but did admit that she "works in the same building" as Alabama Always, one of the 38 companies that sought a medical cannabis integrated facility license. Alabama Always was ultimately not awarded a license, and later sued the commission over the selection process.
"She works in the same building as a couple guys who worked with one of those, but she's just friends with them, she just doesn't like what's going on," Somerville told ADN.
"My client is Alabama Always, she works with somebody who's affiliated with them; works in the same building, not at the same company. She's not affiliated, she's just friends with some of the people."
Somerville went on to accuse Stokes of having a "tremendous conflict of interest" as chairman given that the university on which he serves as a Trustee is the same entity performing the scoring and grading of license applicants.
"He's not just been a Trustee, he has a dorm named after him down there, he's got two academic programs named after him because of the contributions he's made," Somerville said. "He cannot possibly be an impartial arbiter in this situation."
Stokes said he has no intention of stepping down from his position. Furthermore, he said that while he disagrees with the allegation that being a Southern Alabama Trustee makes him a public official, he felt the lawsuit was more of an effort to halt the process of awarding licenses.
"This is a fight over money, each one of these licenses are probably worth several hundred million dollars a year in revenues," he said. "The state of Alabama projects that they're going to collect $90 million a year in tax revenue from this program. If they're collecting 10%, that means they're expecting close to $1 billion in sales each year in Alabama."
Stokes said he and his attorney had asked the judge in the case to expedite a ruling as to whether or not he is legally able to chair the commission, and is hopeful such a ruling will come before the commission's next meeting on Aug. 10, where it's expected to re-award licenses.
"I'm not going to resign; some people say 'just resign and it'll go away;' it's not going to go away," Stokes said. 
"I don't think I'm the issue as much as they're trying to stop the process and prevent us awarding licenses on the 10th of August by trying to go back and reshuffle the cards. I'm not the issue; I may be considered an impediment to this, but if I'm gone, there'll be some other issue they'll raise."