MONTGOMERY, Ala. – With just a single day remaining in Alabama's 2023 legislative session, a bill that would mandate students either attend kindergarten or pass a first-grade readiness assessment is still lacking Senate approval, the final step required for the bill to be sent to the governor's desk for final approval.
The legislation's sponsor, Rep. Pebblin Warren, D-Tuskegee, is making one final push to see to it the Senate approves her bill, which has stalled in the Senate amid filibusters by Sen. Rodger Smitherman, D-Birmingham. The Senate will convene one final day this year on Tuesday, June 6.
"It's truly needed," Warren told Alabama Daily News on Thursday. "These kids are not ready (for first grade), and we've got to do something to get them ready."
The proposal to require Alabama students to attend kindergarten, or at least demonstrate enough competence to enter first grade, has been pushed by Warren for years. 
It wasn't until 2023, however, that the bill gained vocal support from Gov. Kay Ivey, who during her State of the State address, called on the legislature to adopt the proposal. Ivey reaffirmed her support of the bill to ADN in April, with her communication director Gina Maiola saying  the governor still "looks forward to this bill reaching her desk and signing it into law."
The bill also sailed through the House, being unanimously approved by a House committee and passing the full House body with a vote of 91-5 in April. In May, it passed a Senate committee, save for one dissenting vote from Smitherman, who cited concerns over costs.
Smitherman, who has regularly filibustered during the final weeks of this year's legislative session, at times preventing bills from reaching the Senate floor, also cited concerns of "setting up these kids to fail" but mandating they attend kindergarten were they unable to pass the proposed assessment.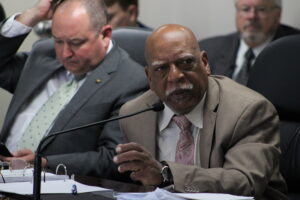 "How can you keep somebody back who has never started school," Warren said in response to Smitherman's concerns. "The assessment test is basically knowing a, b, c; one, two, three; how to cut paper; these are the skills that they're trying to see that they have, because some of these kids, when they get to first grade, they've never had one book read to them, not one, and you think they're ready for first grade?"
Senate President Pro Tempore Greg Reed, R-Jasper, told ADN on Thursday that while he believed Warren had "worked diligently for several years" on the bill, there were still "a lot of questions related to funding for additional kids coming to school that would normally not be in school."
Published in May, a fiscal note attached to the bill estimates that at most, the bill could cost $8.4 million from the Education Trust Fund, and that it could increase kindergarten enrollment by a maximum of 4,000 students annually.
"The issue of mom and dad being able to have their own ability to keep their son or daughter at home rather than having them go to kindergarten – is that their prerogative, can they choose to do that – that was (also) a discussion," Reed continued. 
"I think it is still being – on all of those topics – debated. I think you've got several pros and cons with it that are brought up by different members within the legislative body… we'll have to see what happens."
Regarding the concerns over costs, Warren argued that the potential $8.4 million price tag was inconsequential compared to the need to improve Alabama's public education.
"Alabama's ranked 50th in education, and how can we sit up here and say we can't afford to send our kids to kindergarten," Warren said. 
"Smitherman has continuously held that bill up in the Senate; it has passed the House unanimously, it passed the Senate committee with one dissenting vote and that was his, and he just fights it constantly. And really, this is not about me, this is about trying to correct the problem that will save the lives of so many kids."
Warren said she would continue to try to speak with Smitherman in an effort to garner his support and "give this bill a chance." Smitherman did not immediately respond to a request for comment.