Perry Hooper Jr., whose sex abuse charge was dropped late last year, is now suing the City of Montgomery and Police Chief Darryl Albert, alleging his arrest was a "planned and organized set up" by his political enemies. The lawsuit also says Hooper has been denied access to police records pertaining to his case. 
In a complaint filed Tuesday afternoon in Circuit Court in Montgomery, Hooper alleges these enemies are working to "destroy" him because of his support for former President Donald Trump. Hooper helped spearhead support for Trump in Alabama prior to the 2016 election. In his exhibits, Hooper lists media coverage of his arrest.
In December, Hooper apologized for his behavior at an upscale Montgomery restaurant in August. The apology came after prosecutors moved not to pursue the felony sexual assault charge against Hooper. In November, Montgomery County grand jury indicted Hooper on one count of first degree sexual abuse. But later the alleged victim requested the charge be dropped.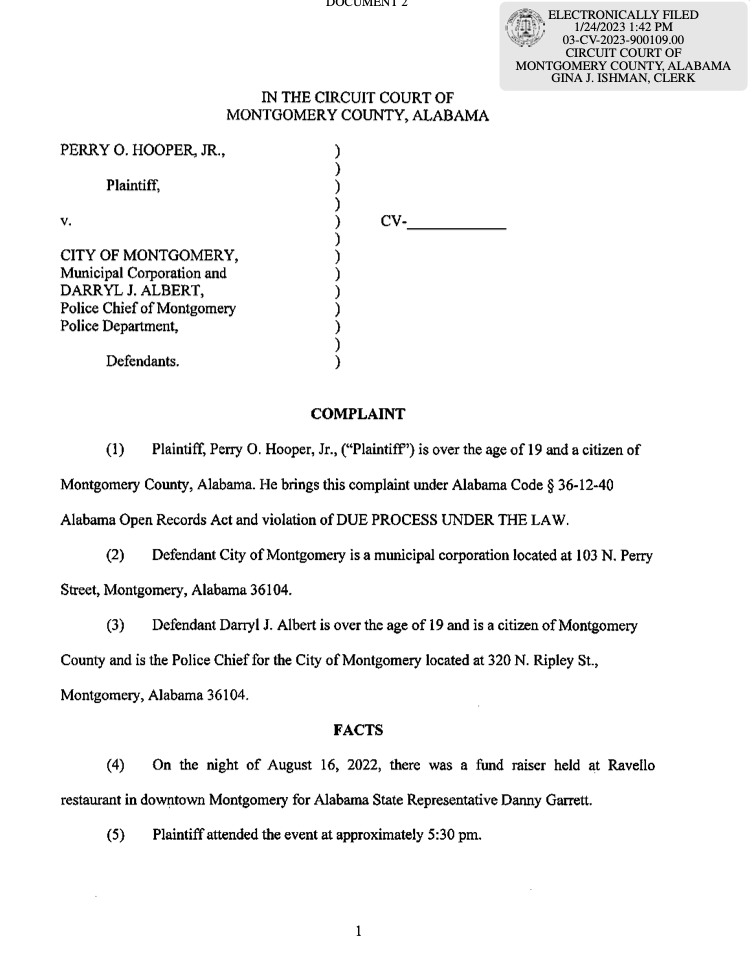 Hooper accuses Albert of instructing witnesses to lie to a grand jury, which led to his indictment in November.
In the court filing, Hooper alleges that the video of interaction between he and the restaurant hostess was "laughable." He said he did approach her from behind and kissed her cheek, but the exchange was about 2.2 seconds "and clearly shows that the plaintiff did not commit a sexual act." 
That video has not been made public.
"The plaintiff and his family have suffered emotionally and financially," the complaint says. "The only way for the plaintiff to save his reputation is to view said file and expose what was an obvious political set-up by the plaintiff's political enemies." 
Thomas Gallion is Hooper's attorney in this lawsuit. He's requesting a judge declare that the defendants have violated the state's open record laws and have Hooper's records released to him. He's also requesting his attorney fees be paid "award such other relief the court considers appropriate."
Reached this morning, a Montgomery Police Department spokesperson said it does not comment on pending litigation.
This story will be updated.