MONTGOMERY, Ala. — Less than four months after the Alabama Legislature adopted the 2024 education budget, the Alabama State Board of Education is deliberating over a 2025 budget request that's roughly a $1.1 billion increase over 2024.
In total, lawmakers approved nearly $8.8 billion for the state's 2024 Education Trust Fund budget, $5.1 billion of which was for individual school districts, administered by the education department. During a recent work session, education board members went over, line by line, its asks for 2025, which totaled $6.2 billion, a roughly 10.7% increase.
The board is expected to vote on the record-sized request at next month's meeting.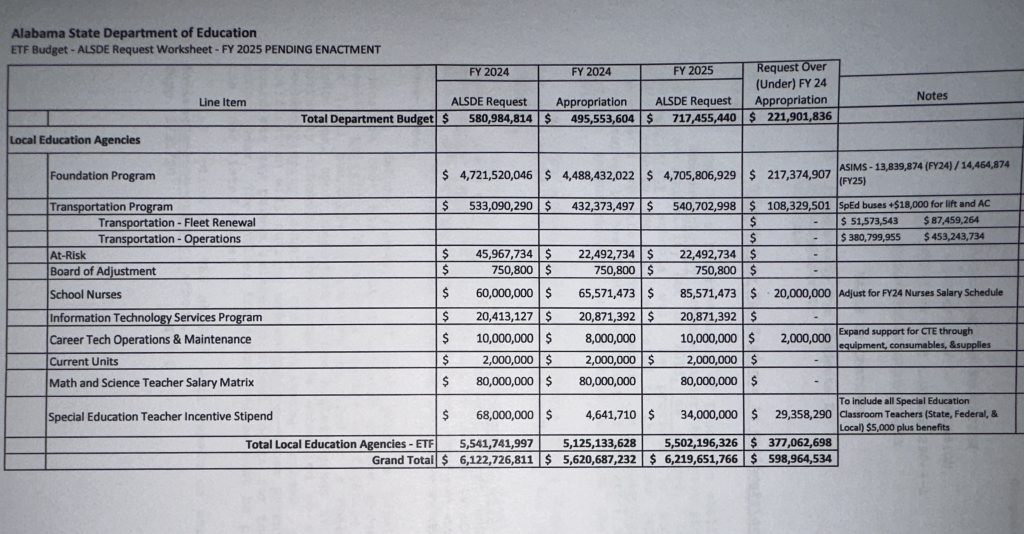 The single-largest increase in the draft was a request for $4.7 billion for the education Foundation Program, a $217 million increase over 2024. The Foundation Program supports schools' basic functions. School transportation was another big line item, with board members asking for nearly $541 million, an increase of $108 million.
A significant portion of the transportation funds would go toward the purchase of special education buses, which by law must be fitted with air conditioning, said Brandon Payne, assistant state superintendent.
State Superintendent Eric Mackey said that currently, just 48% of all school buses are fitted with air conditioning.
The draft also included a $29.4 million increase to the special education teacher incentive program, which in the 2024 education budget, was funded to the tune of $4.6 million and awards special education teachers with a $1,000 stipend. Under the 2025 budget draft, those stipends would be increased to $5,000.
Roughly $63.8 million – an increase of $23.8 million – was included to add hundreds of math specialists and coaches to further support the Alabama Numeracy Act, an initiative launched in 2022 to improve math scores among K-5 students. Nearly $94 million – a $36.3 million increase – was included to further support the Alabama Reading Initiative, with an additional $61.6 million – an increase of $24.8 million – for additional K-3 reading coaches.
School safety was asked to be increased to the tune of $18.6 million – from $1.5 to $20.1 million – for funding of additional training, services and supplies.
Alabama's specialized treatment centers – which provides specialized care for students with special needs – was asked to be funded to the tune of $26.8 million, a dramatic increase over 2024's $800,000.
A new line item in the budget were principal and assistant principal stipends for completing the Alabama Principal Leadership Development System program, which was established through the passage of the School Principal Leadership and Mentoring Act. Under the newly passed law, principals and assistant principals would receive $10,000 and $5,000 stipends, respectively, were they to pass the professional learning program.
The principal and assistant principal stipends were budgeted at $16.6 and $8.5 million, respectively.
Staff raises, as explained by Mackey, were not included in the budget, and are typically not asked for until the close of the fiscal year in October.
"If there is a determination that there's going to be an across-the-board raise, I think it runs somewhere in the neighborhood of $50 million per 1% now, and that comes off the top; then they start working the budget," Mackey said. "So just realize, a 2% raise is $100 million off the top."
While still an early draft, Payne said that the board would need to have the 2025 budget sent to Gov. Kay Ivey's desk before Nov. 1. Just like the previous year, Ivey would then forward her own education budget recommendations to the state Legislature, who would then, after reconvening in February, 2024, deliberate until they adopt their own education budget.