MONTGOMERY, Ala. — Alabama House and Senate leaders held a public hearing Tuesday as the first step in the process of approving new congressional districts, but some members were already divided on exactly which proposed maps should move forward.
The Legislative Committee on Reapportionment will give first approval to a new map ahead of the recently announced special session for lawmakers starting July 17, where the full Legislature will cast the final vote on new districts. 
Alabama is required to approve a new congressional map after the Supreme Court ruled that the map approved by lawmakers in 2021 was likely a violation of the 1965 Voting Rights Act, as only one of the state's seven congressional districts were majority Black, despite 27% of the state's population being Black.
A federal three-judge panel gave lawmakers until July 21 to redraw the congressional lines to include "two districts in which Black voters either comprise a voting-age majority or something quite close to it." If lawmakers can't do it, the court will.
The case was brought to the Supreme Court by members of the nonprofit organization Alabama Forward, who sued the state alleging its 2021 congressional map was discriminatory. The executive director of Alabama Forward and lead plaintiff in the case, Evan Milligan, spoke during the hearing, making his case for maps drawn by his organization.
Dueling proposals
While Milligan's lawsuit was the impetus for the state being required to approve new maps, another lawsuit was filed against the state over its congressional districts, with the plaintiff proposing their own new maps as well.
That plaintiff is Sen. Bobby Singleton, D-Greensboro, whose proposed maps differ significantly from those proposed by Milligan, splitting up less counties but providing no majority-Black districts.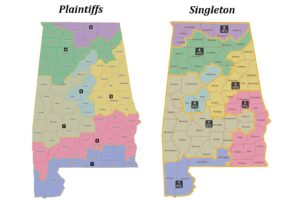 The meeting kicked off Tuesday afternoon with a suggestion from Sen. Vivian Figures, D-Mobile, that the committee — comprised of 22 members, seven of them Black — elect at least one minority to serve as its co-chair. When the committee held a vote on the two members that would act as co-chairs, they instead voted 14-7 for both Rep. Chris Pringle, R-Mobile, and Sen. Steve Livingston, R-Scottsboro.
Milligan would later tell Alabama Daily News that this small vote "demonstrated in real time the racial polarization in voting" on a smaller scale, as the vote also fell along racial lines.
Once the meeting resumed, Milligan was the first to speak on his proposal.
"The map that we're presenting to this body is one that features two opportunity districts; it addresses other issues with the map that we filed the lawsuit against, particularly in regards to cracking the voting strength of Black voters in the Black Belt," Milligan said. 
"So the map that we're producing actually keeps whole the 18 counties that form the core of the Black Belt."
Milligan's map would split seven counties and 10 precincts, most notably Jefferson and Mobile counties, though doesn't alter the northern part of the state (Districts 4 and 5) from the original map approved in 2021. The 2021 map notably split Montgomery, Jefferson and Tuscaloosa counties, grouping a disproportionate number of Black voters into District 7, represented by Democrat Rep. Terri Sewell.
James Blacksher, a civil rights attorney involved in Singleton's lawsuit against the state over its congressional districts, advocated instead for one of Singleton's proposed maps to be adopted, arguing that they had a higher chance of standing up to judicial scrutiny.
"I agree that (Milligan's) maps provide opportunity districts for Black voters, but I have my doubts about whether it could satisfy strict scrutiny under the constitution because of the way it splits Mobile and Jefferson County along racial lines," Blacksher said.
Rep. Chris England, D-Tuscaloosa, pointed out that multiple counties were split in one of Singleton's proposed maps. Blacksher argued that the splits were necessary to eliminate deviation in district populations, and would stand up to scrutiny as the splits weren't made along racial lines.
A number of others, including plaintiffs in Milligan's lawsuit, spoke in support of Milligan's proposed maps during the public hearing, which adjourned at around 3 p.m.
Following the meeting, Sen. Rodger Smitherman, D-Birmingham, a supporter of Singleton's proposal, explained why he believed Singleton's map should move forward instead of Milligan's.
"The reason I think the one that I presented is better is because one of the criteria that the courts are going to look at is gerrymandering, how you had to go around (and) through certain counties to be able to get the population that you needed," Smitherman told Alabama Daily News. 
"The one that (Milligan) presented has a certain degree of gerrymandering. We have a constitutional provision that you have to keep counties whole, and (Milligan's) plan, you can see how many counties are being split to achieve those ends. That's a serious criteria that's before the court now."
On the other hand, Milligan said his proposals were more in line with what the courts would want to see out of a congressional map, telling Alabama Daily News that his proposal "is attempting to look at the reality of what is, the reality of what the courts told us to do."
England, who had pushed back on Blacksher's comments suggesting that congressional maps can't be drawn along racial lines, said that he felt the committee should take Milligan's proposals seriously given he and his organization were the plaintiffs in the landmark case, plaintiffs that the Supreme Court ultimately sided with.
"I think it would serve us well to listen to them; not necessarily that this would be the end all, be all, but at the very least, a more appropriate starting point since they are in fact plaintiffs in the case," England told Alabama Daily News after the meeting.
"For us to satisfy the Voting Rights Act, we can do what's reasonably necessary to accomplish that, which means splitting counties, precincts and so forth. At the core of this, (we need to) make sure that African Americans can elect their candidate of choice."
Members of the public will have until 5 p.m. on July 7 to submit their own congressional map proposals, which they can submit via email to [email protected]. The next public hearing of the Reapportionment Committee is at 1:30 p.m. on July 13.