MONTGOMERY, Ala. — The Alabama Medical Cannabis Commission has new December dates for awarding licenses to grow and sell medical marijuana products, and a new prediction that they will hit shelves sometime next spring.
"We feel like we have a timeline now that will certainly be aggressive, and we see the end coming," said Rex Vaughn, chair of the AMCC, during a meeting Thursday.
The meeting was the first since the commission's adoption of new rules; rules that were crafted to increase transparency in how licenses are awarded, as well as provide new opportunities for companies denied a license to make their case to the commission as to why they should have been chosen.
Those new rules were a response to a flurry of lawsuits from companies denied a license, companies that alleged the license award process was flawed and unfair.
Commission members first voted to lift its self-imposed stay on issuing licenses, and afterwards voted to rescind its previous license awards made in August. The commission also set several dates spanning between Nov. 27 and Dec. 8 for companies to give presentations to the AMCC should they choose to do so.
As for the actual awarding of licenses, the AMCC set a date of Dec. 1 for its issuance of cultivator, processor, dispensary, secure transporter, and state testing laboratory licenses. For the highly contested integrated facility licenses, the date is Dec. 12.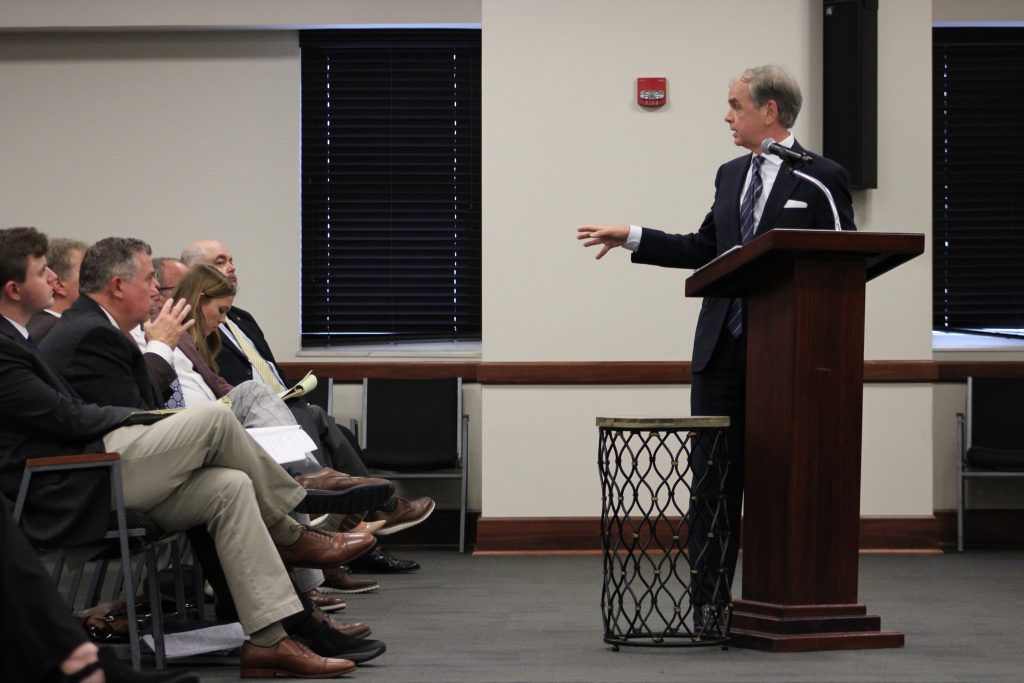 Brittany Peters, spokesperson for the AMCC, told Alabama Daily News that the actual issuance of licenses would happen 28 days following licenses being awarded, meaning selected companies will be permitted to start producing medical cannabis around early January.
Based on that timeline, Vaughn predicted actual products would be available for patients sometime in early March.
"I would say (it would be) the first of the year before the industry would probably kick into gear and cultivators can get going, so probably March would be the first opportunity that you could realistically see a product available considering the process it has to go through from a growing standpoint," Vaughn said.
Given December's planned license awards will be the commission's third attempt, ADN asked Vaughn how confident he was that there would be no more delays.
"I'm pretty confident that we're in a good place right now," he said. "Our process going forward does not allow much room for debate, for plaintiffs to bring up something else that we did not do, because we're doing all we can to give every applicant every equal opportunity."
Alabama's rollout of medical marijuana saw its first delay back in June after, just days after the commission first awarded licenses, errors were discovered in how applicants were scored. The commission immediately put a halt on actually issuing the licenses until the errors could be fully identified and corrected.
The commission awarded licenses a second time in August, but did not ultimately issue them due to another lawsuit filed against the AMCC alleging it violated Alabama's Open Meetings Act by deliberating in secret during an executive session.
Vaughn said with the new rules in place, he's confident that the license awards in December will be the third and final round. So is Amanda Taylor, an advocate for medical cannabis who has used the product to help with her symptoms related to multiple sclerosis, a degenerative neurological condition that can cause seizures.
"Today, hearing how everything is going to be laid out, there's not really room for error this time," Taylor said after the meeting. "I actually leave here with even more hope that I did last time."
The commission is accepting public comments in favor or opposition to applicants through Nov. 26. Comments can be submitted online by clicking here. Companies' heavily redacted applications are also there.