MONTGOMERY, Ala. – A number of high-profile Alabama Republicans expressed their growing concern Saturday over the impending ruling on the state's new congressional district map, which some warned could be "precedent setting" and threaten Republicans' prospects to ever hold a majority in Congress again.
"This doesn't just affect us, this case is precedent setting," said Paul Reynolds, the national committeeman of the Alabama Republican Party during a crowded state party meeting in Montgomery.
"Louisiana is right behind us, they're facing the same problem we are. They're next in line, and what is decided in our case is going to hit Louisiana right between the eyes."
The Legislature was ordered to adopt a new congressional district map after the Supreme Court ruled that the one lawmakers approved in 2021 was likely a violation of the Voting Rights Act, as only one of the state's seven districts was majority Black despite nearly 28% of the state's population being Black, enough to constitute two majority-Black districts.
The Supreme Court upheld a ruling by a lower state court that ordered Alabama lawmakers to adopt a new map that either created two majority-Black districts, or "something quite close" to it. Instead, the Legislature approved a map with just one majority-Black district, with the next-highest Black-majority district having just under 40% of voting-age Black voters.
While Alabama Democrats decried the map as being defiant of the court, with some going as far as to allege Republicans were hoping for Section 2 of the VRA to be gutted, Republicans, like David Bowsher, legal council for the Alabama GOP, were thankful to the Legislature for "having stood up" and given conservatives "at least a shot" at maintaining certain Republican-held seats.
"If you did what the news media wanted you to do, then it's a 5-2 split," Bowsher said.
"House Speaker (Kevin) McCarthy doesn't have that big a margin, that costs him one seat right there. I can't tell you we're going to win in this fight; we've got a Supreme Court that surprised the living daylights out of me when they handed down this decision, but I can guarantee you, if the Legislature hadn't done that, we lose."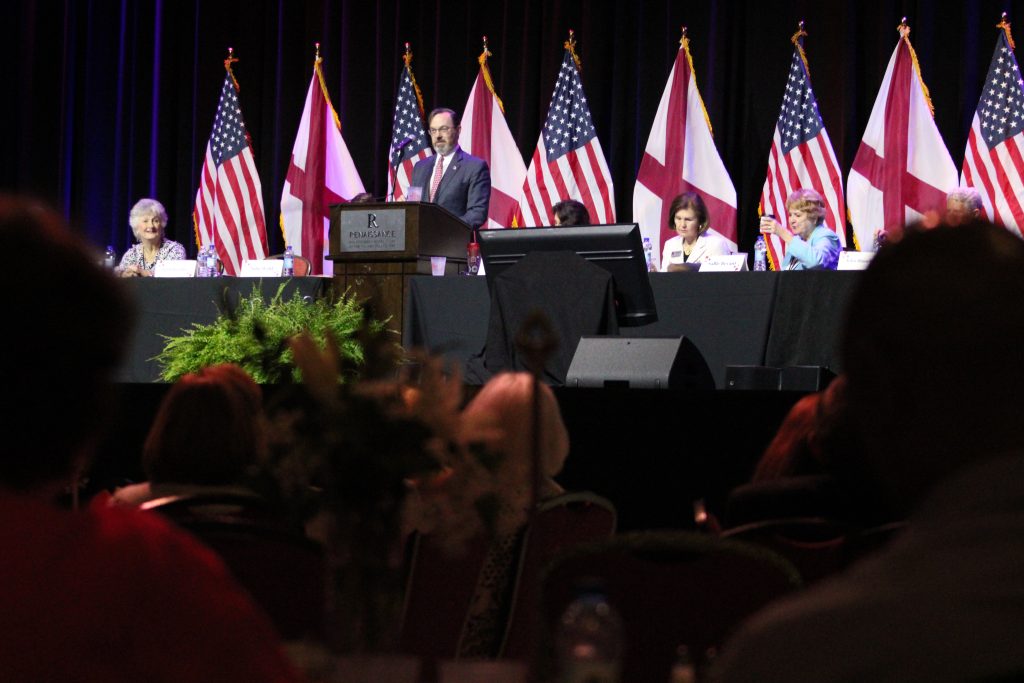 Reynolds later went on to warn his fellow Republicans of the potential threat that a ruling against the latest congressional map proposal could have on a nationwide scale for the GOP.
"Let me scare you a little bit more; Texas has between five and ten congressmen that are Republicans that could shift the other way," he continued. "How could we win the House back ever again if we're talking about losing two in Louisiana, and losing five to ten in Texas? The answer's simple: It's never."
Attorney General Steve Marshall was also present at the Republican meeting, and expressed his thanks to the Republican-led Legislature for, at least temporarily, protecting a Republican-held congressional seat.
"I very much value the Legislature and the work that they did in this last session; it would have been very easy for them just to back down and believe they had to do something that they didn't believe right," Marshall said.
"Let's make it clear, we elect a Legislature to reflect the values of the people that they represent, and I don't think anybody in this room wanted this Legislature to adopt two districts that were going to guarantee that two Democrats would be elected."
Marshall said that his office was looking forward to the newly-adopted map being litigated in a federal court hearing next week.
Another speaker at the meeting was U.S. Rep. Barry Moore, who represents Alabama's Second District, the sub-40% Black-majority district that Republican lawmakers argued was compliant with the Supreme Court's order. Moore said he felt the Legislature "did a great job on the maps," and that he hopes the case "goes our way."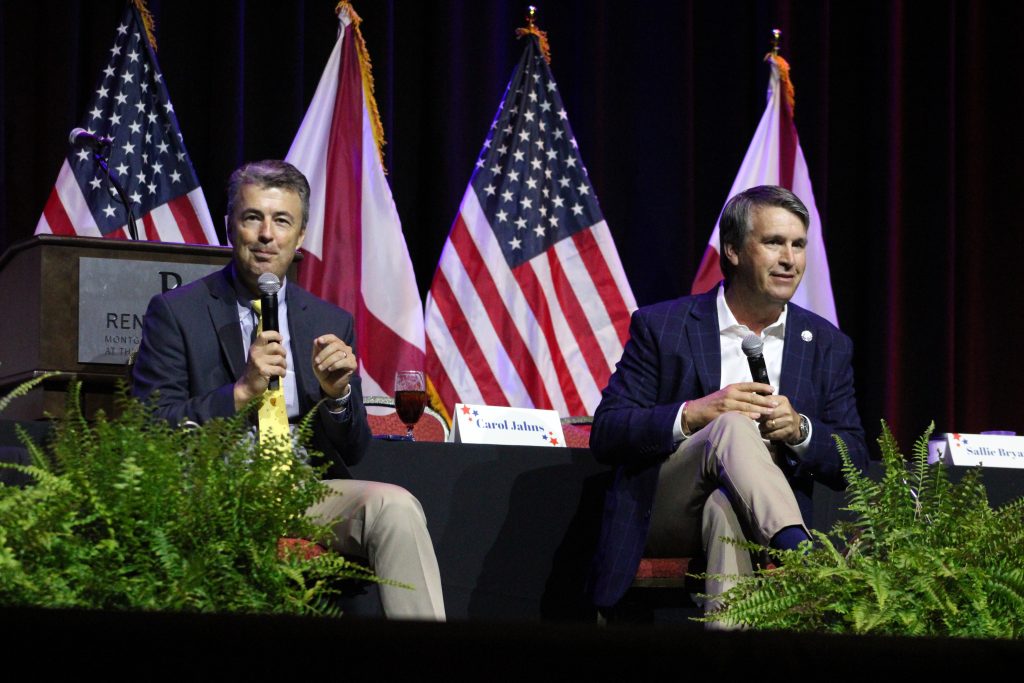 "McCarthy knows that I am one-fourth of his majority in Washington, D.C., so that is huge for the nation," Moore said, referring to the slim number of votes holding the speaker's majority together.
"As Alabama goes, (so too does) Louisiana and some of the other states, so we need to put the fight to the courts, we need to present our case to them because we are going to determine in a lot of ways who has the majority, whether it's Kevin McCarthy as the speaker, or heaven forbid, Hakeem Jeffries."
A three-judge panel will hold a hearing on the state's new congressional map on Aug. 14, which could make a ruling in a matter of days or weeks. Were the panel to accept the state's new map, the ruling would likely be challenged by civil rights activist groups. Were the panel to reject the state's map, a special master would be appointed to draw a map themselves, something the state could challenge in court as well.
"The plaintiffs were making it about Black and white, when it's really about red and blue; we're a conservative state, we vote for conservative candidates, not based on their color, but based upon their philosophy," Marshall said.
"What we believe fully is that we just live in a red state with conservative people, and that's who the candidates of Alabama want to be able to elect going forward. Looking forward to the decision; we're prepared to fight it both ways."