MONTGOMERY, Ala. – Lt. Gov. Will Ainsworth says he's trying to get other state leaders to "wake up" to concerns about spending potentially more than $1 billion in state money on a major road project in rural west Alabama.
"Is that really the top priority right now?" Ainsworth said on "In the Weeds," an Alabama Daily News podcast. Ainsworth this year has become a major proponent for expanding Interstate 65 to six lanes through Alabama.
Another day, another massive back up of I-65.. Lots of phone calls and pictures today. Time to 6 lane all of I-65 and #GoWide65 pic.twitter.com/ZgnYttiuct

— Will Ainsworth (@willainsworthAL) September 4, 2023
While advocating for that, he questions committing a significant amount of state funding to the west Alabama highway project from Tuscaloosa to Thomasville. The West Alabama Corridor project was announced by Gov. Kay Ivey in 2021 and would ultimately create a four-lane route from Tuscaloosa to Mobile.
Transportation department officials have recently said the total price of the project is not yet known, but it could be around $1.1 billion or more.
Ainsworth clarified that he's supportive of the project, but he thinks at least some federal money should be used. 
The Alabama Department of Transportation plans to finance the project with bonds repaid from the 10-cent per gallon gas tax increase approved by lawmakers in 2019. That Rebuild Alabama Act legislation allows for 50% of the state's projected revenue from the tax increase to be committed to bond debt.
While Ainsworth and others have said federal funds should be used on the West Alabama project, ALDOT has told lawmakers that federal match dollars aren't limitless.
"There is a pervasive misconception that federal funds are unlimited for highway projects so long as the state can provide at least 20% of the total cost of any project proposed," ALDOT said in a letter to the Legislative Contract Review Committee last month.
"In fact, there is a finite amount of federal funds provided to Alabama each fiscal year. With input from local leaders and citizens, ALDOT uses those funds to plan and submit projects to the Federal Highway Administration for review. Once reviewed and finalized, those projects are released to bid and contracted. To be very clear, ALDOT spends all available federal funds on highway projects every year."
Department officials have said Rebuild Alabama was designed to provide additional funds for economic development projects like the corridor.
Asked if the law needs to be changed in how it distributes funds, Ainsworth said it's "a bigger question than just that specific project."
"If I was anywhere else in the state, if I was Tuscaloosa, if I was Birmingham, if I was any of the areas in northwest Alabama, if I was Huntsville, if I was Marshall, DeKalb, Jackson, Etowah County, if I was Anniston, if I was Auburn, if I was the Wiregrass, if I was Montgomery, I would be like, what are we doing?"
Ainsworth said he could list about 20 projects that "make a lot more sense from a business standpoint and return on investment for the state."
Money should be invested in growing areas of the state to keep them growing, said Ainsworth, a likely candidate for governor in 2026.
Last month, Ivey and ALDOT officials announced more than half a billion dollars worth of major interstate expansions, the largest of which is the widening of Interstate 65 south of Birmingham. The 12-mile stretch in fast-growing Shelby County is among the most congested of the entire interstate, especially during the summer months that see beach travelers.
Despite some recent criticism of the West Alabama Corridor plan, Ivey, who is originally from that area, remains firm in her support.
"The bottom line is I'm the governor of all the people, including those in the Black Belt and in west Alabama," Ivey told Alabama Daily News last month. "… It's the right thing to do and we're going to press on with expanding U.S. Highway 43 into a four lane from Mobile to Tuscaloosa."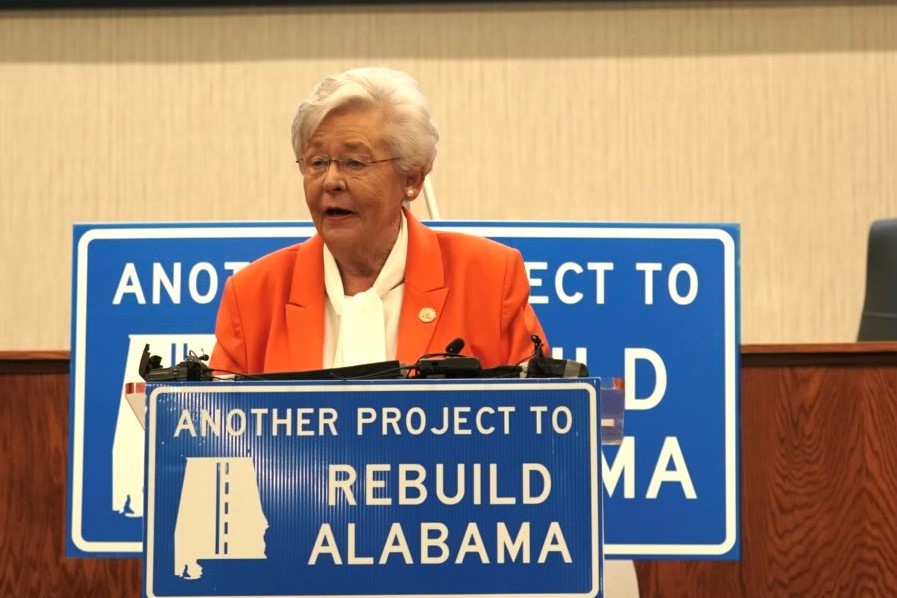 Beyond Ivey, the project has supporters in the State House, including Sen. Greg Albritton, R-Range, who said there's no growth in rural west Alabama without state investment first.
"There are high demands in lots of places and we don't have the resources to do all there is," Albritton, chairman of the Senate General Fund committee, said about road funding. "But west Alabama has been bypassed for a long, long time and until we do something different, we're going to keep getting the same thing. It's imperative that we get some infrastructure in there.
"So I'm supportive of this and want to see it continue."
Senate Transportation and Energy Committee Chairman Sen. Gerald Allen, R-Tuscaloosa, said the project is good for rural Alabama and one of the state's largest employers, Mercedes-Benz.
"We need a very good, strong infrastructure to the Port of Mobile," he said. "We have a major, global automaker sitting in Tuscaloosa and we certainly can see the benefits of this project and why it's so important."
Meanwhile, the project would open new doors for areas between Tuscaloosa and Mobile.
"For the long-term, (the corridor will) promote interest and growth and development for rural Alabama and give citizens in those counties the opportunity to see something that they've never seen before," Allen said.
Another vocal critic of the funding plan for the West Alabama Corridor is Sen. Chris Elliott, R-Josephine. Asked Wednesday if the Rebuild Act should be changed, Elliott said those who voted for it thought the gas tax increase revenue would be spread across the state.
"I don't think it was any legislator's intention that the administration or the State Department of Transportation go and spend all of the money that can be borrowed under Rebuild in one spot," Elliott told Alabama Daily News on Wednesday.
He said he and others don't like "maxing out the credit card in one spot" through the bond issue.
During the passage of the 2019 gas tax increase, lawmakers and ALDOT leaders discussed focusing at least some of the new revenue toward the 16 counties in the state that didn't have a four-lane route to an interstate. The law created two new funding programs: A Congestion Relief Program to target some of the state's busiest roads and an Economic Development Roads Program "to develop and improve transportation infrastructure to enhance economic development efforts in the state of Alabama."
So far, Rebuild has been used or pledged to a variety of projects, including targeting some of those 16 counties, including Geneva and Cherokee counties, as well as some of the highest-traveled roads, ALDOT officials say. Rebuild Alabama projects to date include:
Additional lanes on Interstate-565 and other interstate projects in Madison and Limestone counties;
Additional lanes on I-10 in Mobile County;
Widening U.S 411 in Cherokee County to connect to I-59;
Widening Highway 52 in rural Geneva County to the four lane U.S. Highway 231 in Dothan;
Improvements to Highway 82 in Autauga County;
Improvements to McFarland Boulevard in Tuscaloosa;
The planned Eastern Connector, an extension of Interstate-759 in Gadsden.
Sen. Tom Butler, vice-chair of the Senate transportation committee, said he understands that advocates of the corridor want the project to bring more economic development and growth to the area. But his district is trying to serve an already large and growing population and needs better roads to do so.
"Right now, in my area in North Alabama, one of our biggest needs right now is accommodating growth that we already have that's bringing in tons of money as far as income tax and sales tax and one of our biggest needs is roads."
Highway 72 from Huntsville to Athens needs to be widened to accommodate increased traffic flow, Butler said.
"We wish (west Alabama) well, but the state has an obligation, to me, to handle the growth that we've already had, which pumps money into the state."
Alabama Daily News' Todd Stacy contributed to this report.